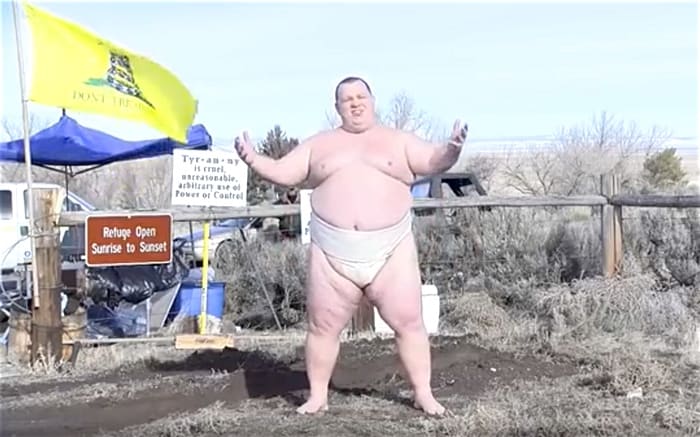 Kelly Gneiting, a 5 time U.S. Sumo champion who in recent weeks joined the Bundy militia at the Malheur National Wildlife Preserve in eastern Oregon, posted a video online challenging Republican presidential candidate and New Jersey Governor Chris Christie to a wrestling match.
The challenge was in response to recent remarks by Christie that law enforcement should intervene and disperse the Bundy militia. The group's standoff against the federal government has been going on for three weeks.
Says Gneiting in the video, in which he jokes that he's Christie's "older brother" Kelly:
"Yeah I know mom gave us both girl names but I want to see who the real sissy is. Because you got up in front of the cameras the other day and you talked about how you'd like to see the strong arm of the law disperse these good folks in Oregon."
"Woohoo Little Christie!", Gneiting shouts. "Remember that? Remember we used to call you that all the time?"
"Remember all those times we used to tussle in the front room? Man we'd go all night sometimes from dusk till dawn. But now we're adults. And we have pretty much the same body frame. You might be a little bigger. So bring that big old belly over here and let's slap bellies!"
Gneiting challenges Christie to 10 bouts and promises that if he wins 1 bout of out 10 then the Bundy militia will disperse.
"But if I win all 10, I get to roll you down the stairs in that sleeping bag again. Woo-hoo, little Chrissy! … Going to war on the shore. Wearing diapers and slappin' bellies just like when we were toddlers."
Watch:
https://www.youtube.com/watch?v=N8TTWujUGsU
Gneiting set a Guinness World Record in 2011 when, at 400 lbs, he became the heaviest man to complete a marathon, after finishing the L.A. Marathon in 9 hours 48 minutes 52 seconds.
On Facebook, Gneiting lists his affiliations as the United States Sumo Federation, Church of Jesus Christ of Latter-day Saints, and the Independent American Party.