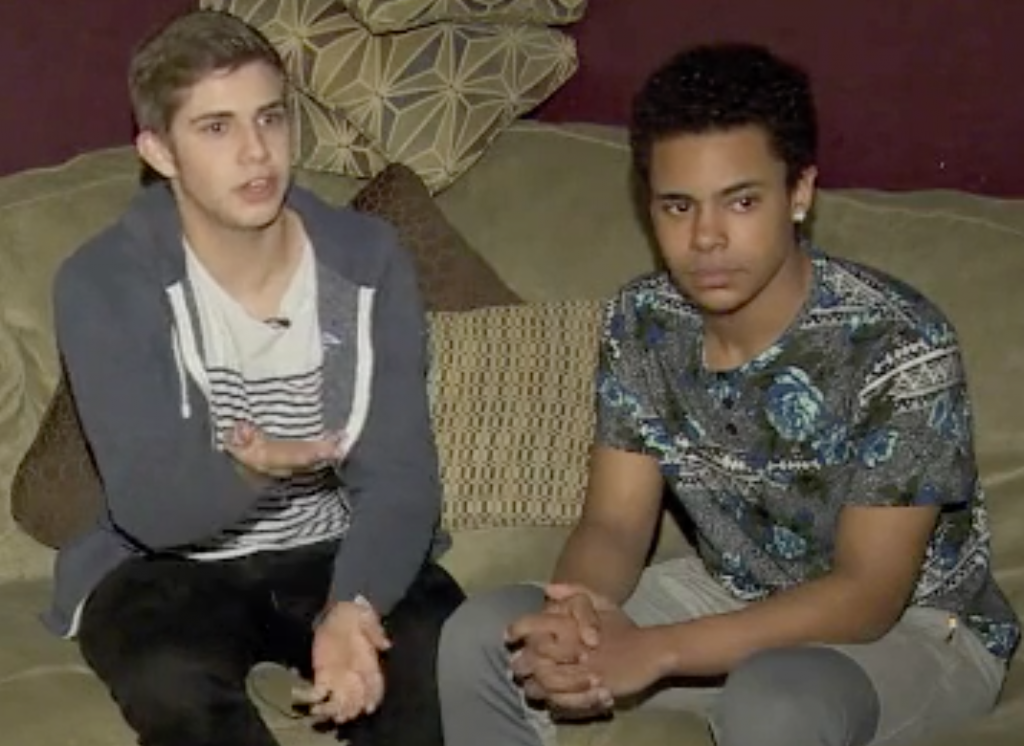 The mother of an openly gay, special-needs student in Oregon is suing his high school, alleging that teachers bullied him and even threatened to kill him.
Shawna Dicintio alleges in a federal lawsuit that Brett Trosclair (below right), a teacher at Century High School in Hillsboro, threatened to throw her son and another student down a flight of stairs last year.

Prior to that, Dicintio alleges that the dean of students refused to help her son when he was being verbally and physically assaulted in the lunchroom, and another teacher told him "to stop being a diva and a priss," according to The Oregonian.
Dicintio's son is identified only as J.D. in the lawsuit, but according to previous reports, his name is Jeffrey Dicintio. KATU-TV reported last year that Jeffrey Dicintio (above left) and a friend, Kieshon Averette (above right), were talking loudly during a performing arts assembly, when Dicintio commented that one of the guys on stage was cute.
"A teacher turned around and told Kieshon to shut up and said that he was going to kill Kieshon. And we were like 'What?' And he told Kieshon he was going to throw him down a flight of stairs," said Dicintio, then a sophomore. "I said, 'You're going to throw us down a flight of stairs?', and he said, 'Twice.'"
After Trosclair was placed on administrative leave while the school investigated the incident, other students rallied around the popular teacher, claiming that he was known for sarcasm and had only been joking. They launched a hashtag, #TeamTrosclair, as well as a Facebook page, and even staged a walkout.
After Dicintio complained in 2014 that a teacher had called him "a diva and a priss," the district reviewed its bullying and harassment policies and offered training sessions on LGBT diversity, The Oregonian reports. However, Shawna Dicintio says the district didn't do enough, and instead caused her son "emotional distress, embarrassment, humiliation, anxiety, stress and fear."
Shawna Dicintio alleges in the lawsuit that the campaign in support of Trosclair led to threats of violence and death against her son. Trosclair has since returned to teaching at the school, and Jeffrey Dicintio is now taking courses online. However, the lawsuit asks school officials to allow Jeffrey Dicintio to return to school safely, even if it requires a police escort or private security. Shawna Dicintio is also seeking monetary damages, and demanding that every teacher and administrator in the district receive eight hours of LGBT diversity training.
Watch KATU's report from last year HERE.