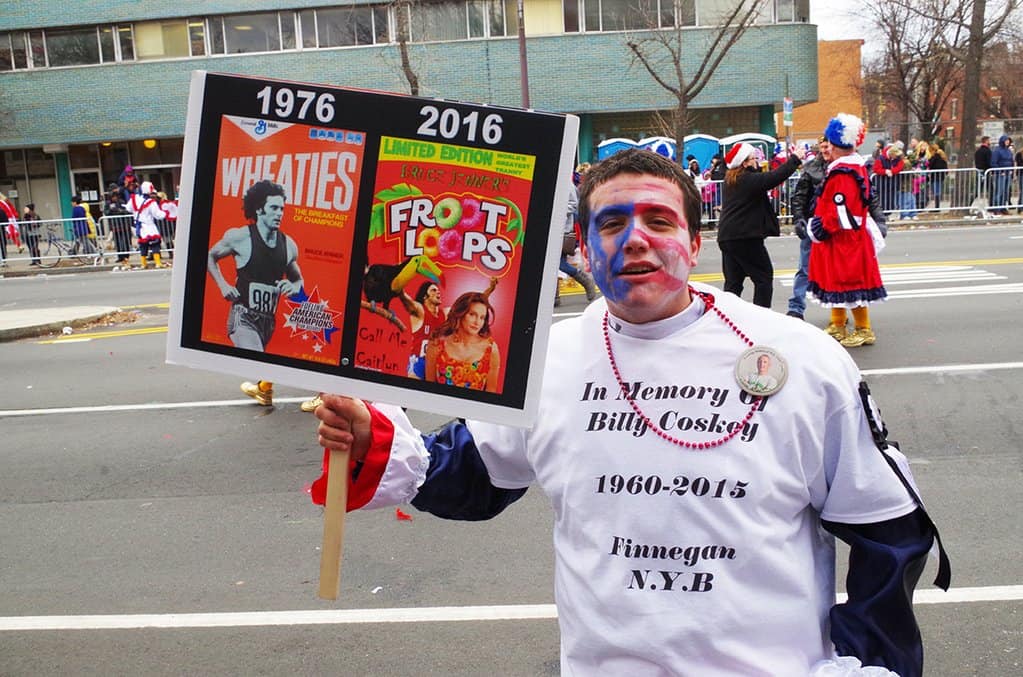 Anti-LGBT bigotry and violence marred this year's Mummers Day Parade in Philadelphia, the iconic New Year's Day event that's often referred to as the city's version of Mardi Gras.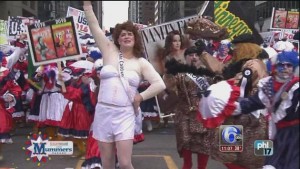 One group of "Mummers" marching in the parade, the Finnegan New Year's Brigade Comic Club, mocked transgender former Olympian Caitlyn Jenner.
According to WCAU-TV, a man dressed as Bruce Jenner dropped into a wheelchair and changed into a woman's costume while Aerosmith's "Dude Looks Like a Lady" played. Members of the brigade also carried signs with images of Jenner on a Wheaties cereal box in 1976 and on a box labeled "Froot Loops" from 2016 (above). One brigade member yelled "fuck the gays" while posing with the sign.
From WCAU-TV:
"It's unacceptable. There's no place for it in Philadelphia," said Nellie Fitzpatrick, the city's Director of LGBT Affairs.
"We will be working to prevent this disgusting display of bias, hateful behavior in the future," she said. …
NBC10 reached out to Finnegan N.Y.B. for comment about the act and incidents, but didn't hear back directly. On Twitter, the group said one member doesn't speak for the entire group.
"What a joke. Everyone is to sensitive. This is why we're in the comics," another tweet said.
Philadelphia Mayor Jim Kenney took to Twitter to condemn the Jenner entry as "bad" and "hurtful," saying transgender citizens "don't deserve this type of satire/insult." The Finnegan NYB group later tweeted a pseudo-apology, saying it had "dealt with" the member who yelled "fuck the gays" without addressing the Jenner issue.
@Anthony19145 @phl17 It was bad. Hurtful tomany Philadelphians. Our Trans Citizens do not deserve this type of satire/insult. #Berespectful

— Jim Kenney (@JimFKenney) January 1, 2016
One bad apple and blame the whole group. Typical of people out there. THAT individual has been dealt with in house. #LoveGays #HappyNewYear

— Finnegan NYB (@FinneganNYB) January 2, 2016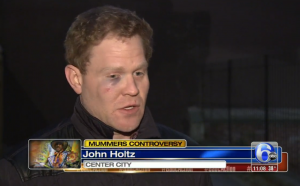 In another incident, 28-year-old John Holtz said he was walking his mother's dog with friends when he noticed a group of intoxicated Mummers in face paint and costumes, urinating in an alley. From Philly.com:
"One guy kept saying, 'Your dog is too good for you. Your dog is a little bitch. You're a f—-t,'" Holtz said. "He was digging at me."
Holtz chose not to file a police report because his friends were visiting from out of town and he didn't want to spend the day in a police station.
"It was not a fun event and it makes me a little concerned about what this actually brings to the city," he told Philly.com. "It's positive in certain aspects but it lets some people run wild and free from the law and acceptable social norms."
According PhillyVoice.com, the Mummers Parade made an effort to be more ethnically diverse this year after the mostly white male event was accused of racism. But apparently it didn't work, as participants from one entry called "Siesta Fiesta" appeared in brownface, while others carried "Mummers Lives Matter" signs.
The city's Human Relations Commission released a statement following the parade saying, "More needs to be done to end these public displays of bigotry."
Watch news reports and a video of the Finnegan NYB entry below.