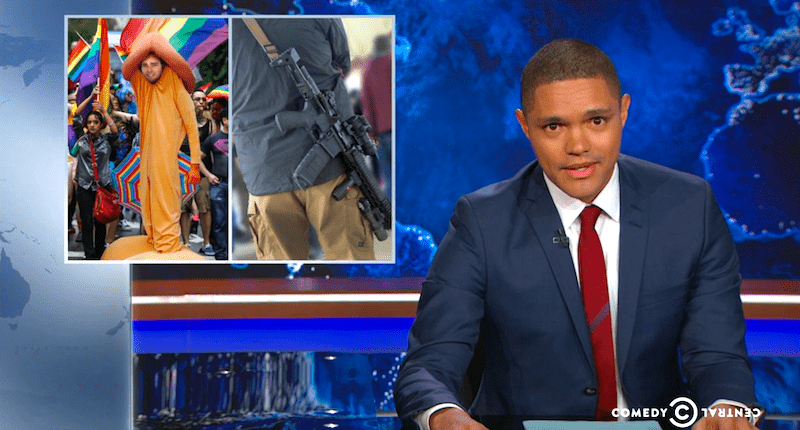 On Monday, The Daily Show host Trevor Noah addressed a new open carry gun law in Texas. Noah comedically likened gun owners wanting to be "open" about their gun ownership (in other words, blatantly displaying their firearms in public) to LGBT people wanting to be accepted for who they are.
Said Noah, "Gun lovers in Texas just want to stop hiding who they really are." Noah then showed clips of Texas gun owners talking about wanting to be "open" about carrying a gun, saying carrying a gun is "no big deal."
Noah went on to mock Texans who took to the streets to celebrate being able to openly carry their guns:
"This is insane, they're just running around, like, 'Yahoo, now I'm going to bring my gun everywhere. Let's go shopping and (to) the laundromat, and hey — I'm late for my shift at the coffee shop.' This is almost a little bit like when gay people first realized that society was starting to accept that people might be openly gay, and they immediately went out and started dancing on truck beds dressed as giant penises," Noah said. "Which, on the one hand, is great. I mean, you be you. But at a certain point, we get it: You love giant penises."
Watch below.
[h/t Raw Story]