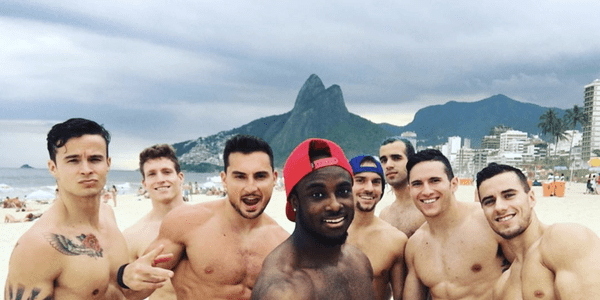 The U.S. Men's Gymnastics Team are giving Taylor Swift and her squad of Amazons a run for their money.
In a photo posted by U.S. Olympian gymnast Dannell Leyva on Instagram, the team of Olympics-bound athletes show off the results of their many hard hours training for Rio 2016. The team qualified for the Rio de Janeiro games back in October, but the guys apparently decided to get in some on the ground intel on their host city as the photo posted by Leyva shows the team on Rio's famous Copacabana beach with the iconic South American city in the background.
The photo was captioned only, "#squad #meanmuggin."
Leyva's blue hair can be spotted in the back of the group but what is surprisingly missing is his own shirtless torso which we grew to know back in 2012. 
https://instagram.com/p/BAfv7kOBqNk/
A New York Times profile of the gymnast in 2012 wrote of the pleasure Leyva takes in being seen:
He insisted, though, that he is just as much of a showman and would like to work in entertainment someday.
"I want to do musicals, acting, Broadway, everything," Leyva said. He noted that only a few people have won an Emmy, a Grammy, an Oscar and a Tony. "My goal is to join that group."
UPDATE. U.S. gymnast Paul Ruggeri III has also posted photos of Team USA's training trip in all its shirtless glory.
I P A N E M A pic.twitter.com/dpAz3qkqCF

— Paul Ruggeri III (@Paul_Ruggeri) January 13, 2016
https://instagram.com/p/BAZ5AIIHOs7/
https://instagram.com/p/BAfutU0nOvf/