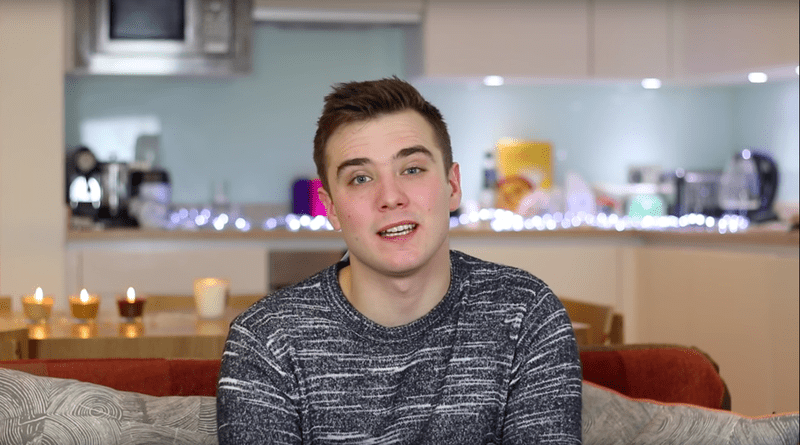 Gay vlogger Calum McSwiggan took to his YouTube channel on Sunday to apologize for having done gay adult films in the past.
Over the past two years, McSwiggan has become a notable LGBT activist in the UK and has posted numerous videos about issues of relevance to the LGBT community.
Though there have been rumors among his followers about his past appearance in adult films, McSwiggan has never previously addressed such speculation. In his new video, McSwiggan confesses, "There's no easy way to say this but when I was 19 years old, I did gay porn. This secret has been weighing me down all of this time. And it's about time I come clean and face my past." He adds, "I did gay porn, and I'm sorry. I hope you guys can forgive me."
McSwiggan explains that he turned to gay adult films when he was 19 because he had been fired from his job for being gay and was in need of money. He started doing "cam" shows with his friends that began "innocently", but then turned into pornographic cam shows. Said McSwiggan of the decision to turn to adult films, "[My friends and I] realised how much easy money we could make…we only had to do it for a month to make enough money to pay rent for a year."
McSwiggan now says that the experience of doing adult videos comes back to haunt him on a daily basis. Though he only did live shows, those videos were recorded by viewers and have since been re-posted. "Friends and acquaintances and even [viewers] keep finding these videos," McSwiggin says, "and it's a constant reminder of a time I'd rather forget." One person even tried to blackmail McSwiggan by threatening to reveal to his mother that he had done gay adult films.
McSwiggan also addressed the way in which doing porn has negatively affected his mental health. Speaking of how some of his adult videos have more views than his most popular YouTube videos, McSwiggan says,
"Knowing that somebody would rather watch you take your clothes off and look at your body than listen to what you have to say, than listen to you speak about something you're passionate about–that's not an easy pill to swallow."
McSwiggan warns viewers against what he perceives to be the dangers of the gay adult film industry. "The porn industry often preys on the young and naive – it makes you forget what you're doing," he says. "It tricks you into doing something you're going to later regret." As for those thinking about getting into gay adult films, Mc Swiggan cautions, "If you want to do porn because you are super passionate about it, that's great and that's wonderful. But if you are just doing it because it's easy money, then I really strongly urge you to consider the consequences and reconsider."
Mc Swiggan also spoke to BuzzFeed about the fact that he had unprotected sex in his cam videos, something he says he does not condone. McSwiggan has been an outspoken advocate for the use of condoms.
"Although we were all tested before we did it and knew we were negative, when you watch the videos there's no context to that, it just looks like we're having unprotected sex and that's not something I want to promote. I promote the opposite – it's something I say in my videos: 'Don't bareback, make sure you're using protection.' I don't want this to damage my reputation and all the things I've worked so hard to do."
Watch McSwiggan talk about his gay porn past, below.
You can also watch McSwiggan's video in which he talks about getting fired for being gay, below.