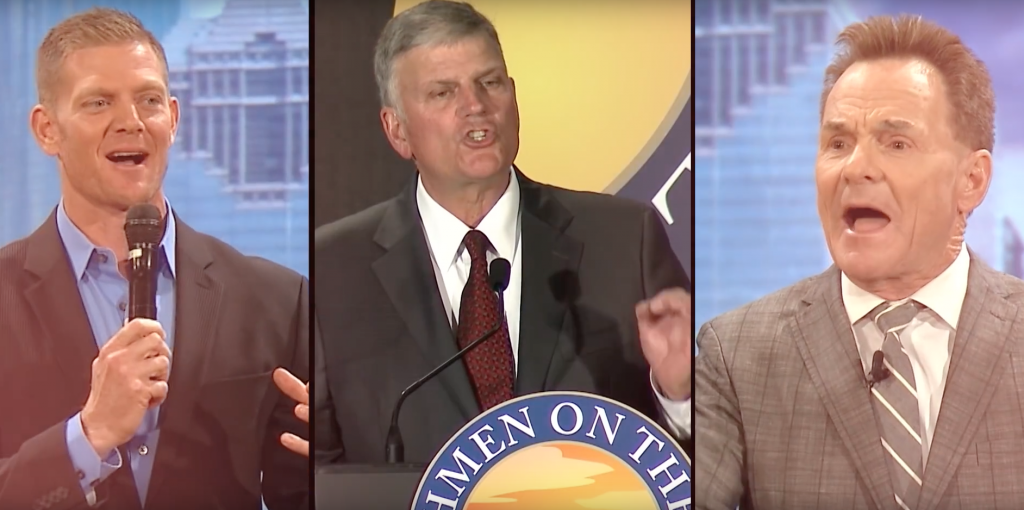 Mercifully, there were no questions about so-called "religious freedom" — which has replaced "family values" as the preferred code word for anti-gay bigotry — during last night's GOP presidential debate.
However, eight of the Republican candidates will get a chance to sound their hateful dog whistles on Saturday, when they participate in a "Free To Believe Forum" hosted by two of the nation's most rabidly anti-LGBT activists — the Family Research Council's Tony Perkins and Vision America's Rick Scarborough.

According to FRC, the four-hour forum will be broadcast to more than 160 churches in all 50 states, and include messages from Jeb Bush, Ben Carson, Ted Cruz, Carly Fiorina, Mike Huckabee, Marco Rubio, Rick Santorum and Donald Trump. A promotional video bills the forum as "a webcast training conference designed to equip people to stand up and champion religious freedom in your city."
"Religious liberty, the church, and our core beliefs have all been frayed by the words and deeds of this administration," Perkins said in a release. "As Christians, if we don't have the freedom to live according to our faith — whether it's in the home, the workplace, or in school — then religious liberty is a meaningless phrase. I'll be talking with individuals, pastors, and Culture Impact team leaders as they share the urgency to stand up and defend religious freedom."
In addition to the presidential candidates, the broadcast will feature former reality TV stars the Benham brothers, the Southern Baptist Convention's Dr. Ronnie Floyd, the Liberty Counsel's Mat Staver, Houston Pastor Steve Riggle and Oklahoma Wesleyan's Everett Piper.
More on Perkins and Scarborough from Right Wing Watch's Miranda Blue:
Both, even while attempting to curtail the rights of LGBT people, have claimed that it is their rights that are being violated by the LGBT movement: Perkins has said that the supposed persecution of anti-gay Christians in America is inspiring ISIS, and Scarborough has declared that he is ready to burn to death in the fight against gay marriage.
But neither Scarborough nor Perkins has ever been particularly interested in a "live and let live" truce with LGBT people.
Scarborough has declared that AIDS, "a homosexual disease," is God's "judgment as a result of an immoral act." Just last year, he repeated his belief that AIDS is "God's judgment on a sinful generation, adding that "God would probably give us the cure for AIDS today" if the U.S. stopped supporting gay rights.
Three GOP presidential candidates — Cruz, Huckabee and Bobby Jindal — appeared in November at a rally hosted by Pastor Kevin Swanson, who advocates the death penalty for gays. "But if any of the other candidates have an ounce more shame, they might want to think twice about appearing at Saturday's event," writes Blue.
Don't count on it.
Below is a video promoting the forum as well as a live feed of the event beginning at 9 a.m. Eastern on Saturday.