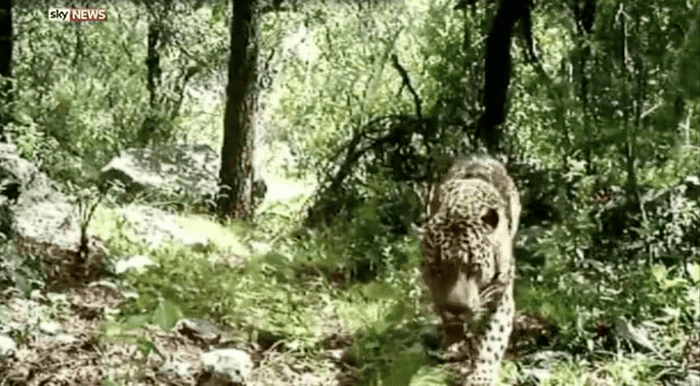 The only wild jaguar known to be living in the United States was just captured on camera by conservationists in Arizona.
Video of "El Jefe", as he is known, suggests that other jaguars (particularly El Jefe's mother) may also be living somewhere not far from where Jefe was spotted.
The Center for Biological Diversity posted the video of the big cat on its Facebook page on Wednesday:
Conservation CATalyst and the Center for Biological Diversity released new video today of the only known wild jaguar currently in the United States.
Captured on remote sensor cameras in the Santa Rita Mountains just outside of Tucson, the dramatic footage provides a glimpse of the secretive life of one of nature's most majestic and charismatic creatures.
This is the first-ever publicly released video of the #jaguar, recently named 'El Jefe' by Tucson students, and it comes at a critical point in this cat's conservation.
Though Jaguars once populated the American southwest they have become almost extinct in the U.S. after 150 years of decimation due to poaching and habitat loss.
"El Jefe" – Spanish for "the boss" – has been living in the Santa Rita Mountains about 25 miles south of downtown Tucson for over three years, according to the Center for Biological Diversity.
El Jefe is about 7 years old and is one of only four or five jaguars that have been spotted in the U.S. in the last 20 years. He's the only documented wild jaguar in the country.
"A lot of people have no idea that we have jaguars in the United States or that they belong here," said Randy Serraglio of the Tucson-based environmental group. "In bringing this video, we hope to inspire people to care about these animals and support protection for their homes."
Conservationists say El Jefe's habitat is threatened by a proposed open-pit copper mine in the mountains. The proposed Rosemont Mine has been in the works for several years but is tied up in the permitting phase.
Biologist Chris Bugbee spoke of the difficulty of tracking big cats like El Jefe:
"Studying these elusive cats anywhere is extremely difficult, but following the only known individual in the U.S. is especially challenging," Bugbee said. "We use our specially trained scat detection dog and spent three years tracking in rugged mountains, collecting data and refining camera sites; these videos represent the peak of our efforts."
Watch video of Jefe, below.
https://www.youtube.com/watch?v=7n21ZqIU8aw