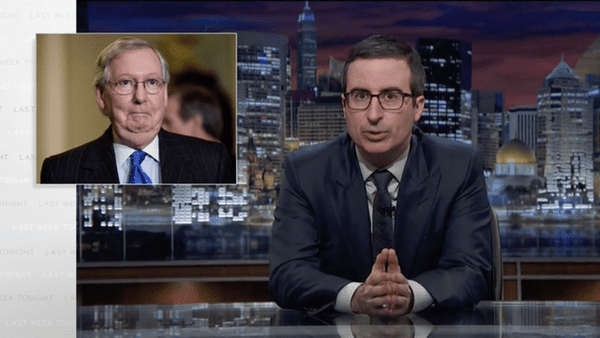 John Oliver returned to his show Last Week Tonight on Sunday and started off by blasting the GOP for vowing to block any nominee President Obama appoints to replace Antonin Scalia. Scalia passed away on Saturday at the age of 79 while on a hunting trip in Texas.
Oliver took particular aim at GOP Senate Majority Leader Mitch McConnell who invoked the so-called Thurmond Rule, an unofficial rule in the Senate that says a president should not nominate any justices within the last 6 months of his term. The problems with the Republican invocation of this rule are:
1) President Obama has roughly 10 months left in his term, not 6.
2) It's not a real rule.
3) Mitch McConnell is on record as saying: "This rule that doesn't exist."
Also factor in the irony that Scalia was an originalist, believing only in a strict interpretation of the constitution (none of this "spirit of the law" nonsense). Therefore, Oliver argues, Republicans should honor Scalia by adhering to what the constitution says about appointing a justice to replace Scalia: that is, Obama gets to do it.
Says Oliver, "If you really loved Antonin Scalia, you wouldn't honor his memory by desecrating the thing he loved the most. Think of Scalia like a Brita filter or a child's hamster. Why don't you honor his entire reason for being by swiftly and efficiency replacing him."
Watch, below.
https://www.youtube.com/watch?v=9Vt9xV9ZI74