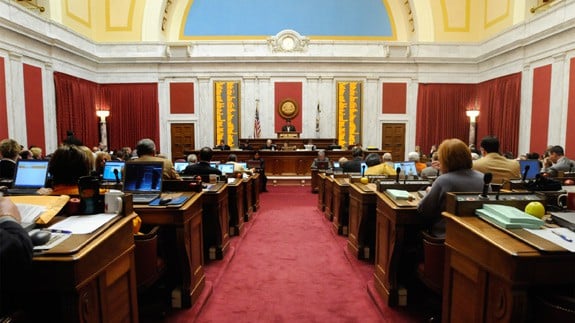 The West Virginia House has passed the Religious Freedom Restoration Act which many believe will be used to discriminate against gay people.
The bill passed 72-26 with the support of 15 Democrats. Seven Republican reps voted against the legislation. Proponents say it protects freedoms to express religious beliefs unless the state has a "compelling interest."
Arguing in favor, Senate Judiciary Committee Chairman John Shott (R-Mercer) said:
"There are those among us who are intolerant of those of us who hold those beliefs and cherish that connection we have to God and our religion. And it's those people that need to understand that we have rights too and first among them is the right to exercise our religion."
However, according to Metro News, opponents say the legislation sanctions discrimination and various business interests – including Charleston's Marriott hotel – have voiced opposition.
Delegate Shawn Fluharty said the bill would discourage companies with anti-discrimination policies from coming to West Virginia. Fluharty also denounced the bill on Twitter.
Bigotry Bill on 1st reading today. #RFRA

— Shawn Fluharty (@WVUFLU) February 9, 2016
I talked about fighting stereotypes of our state in RFRA speech then we go out and add to them. Great job guys. #wvpol

— Shawn Fluharty (@WVUFLU) February 13, 2016
Happy Presidents' Day. Lincoln reminded us we were all created equal. As we saw last week, many in WV aren't treated as an equal. #wvpol

— Shawn Fluharty (@WVUFLU) February 15, 2016
The bill will now move to the Senate but the outcome is unclear. Citing the case of Indiana – which is thought to have lost around $60 million from businesses who opted to move conventions elsewhere because of a similar law – West Virginia Gov. Earl Ray Tomblin said he'd have to consider a veto.
Watch Fluharty's Floor speech on the issue below.
https://www.youtube.com/watch?v=iemRlRiKFH4