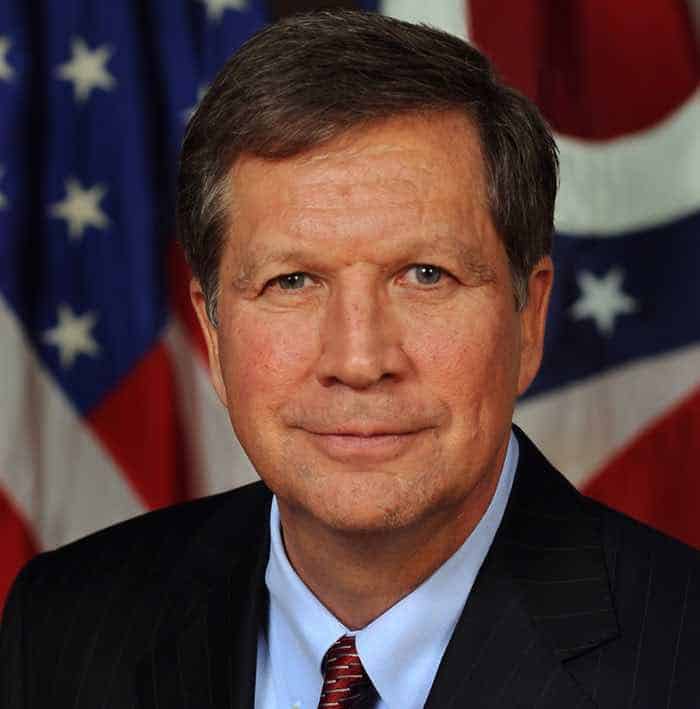 John Kasich, the Republican Governor of Ohio and presidential hopeful, said on Tuesday that the question of gay marriage is settled law and that he would not fight the Supreme Court's ruling that effectively legalized same-sex marriage nationwide if he were to become president.
Kasich made his remarks while campaigning in Michigan after being pressed on his stance on LGBT rights by a gay student at Michigan State University.
The student identified himself as a "staunch Democrat – always have been, always will be" before Kasich jokingly told him, "well that's a good open mind. You don't know that." The student identified himself as gay and told Kasich he "faces discrimination daily and weekly," and wanted to know the candidate's views on same-sex marriage and LGBT protections under the law.
"If I see discrimination in anything, like I said earlier, I'm willing to do what I can," Kasich said. "Whether it's executive order or legislation. That's fine with me. As for marriage equality – let me be clear I'm for traditional marriage but I've been to my first gay wedding. A friend of mine is gay and got married. I went home and said to my wife, we've been invited to Steve's wedding and you know, said this is going to be unusual for us. She said, well I'm going. Are you going? And I went. And I had a great time. And there was great champagne."
The student pressed back, "I don't think that's enough for you to say you've been to a gay wedding."
"Well, we're not changing any laws," Kasich told him. "We're not changing. We're not going to allow discrimination on this."
"So the Supreme Court upheld marriage equality," the student noted. "Does that mean you would go out of your way to protect that right?"
Kasich ended the conversation. "Look, we're not changing any laws," he said. "The court has spoken. That's the end of it."
Kasich's remarks contrast dramatically with those of GOP rival Marco Rubio who recently announced the formation of a 'Marriage and Family Advisory Board' that will explore ways in which the Supreme Court's gay marriage ruling could be overturned.
Rubio also said during Saturday's debate in South Carolina that, if elected president, marriage in the United States will be between one man and one woman. Asked later if that meant he favored a constitutional amendment banning gay marriage, Rubio said he wouldn't go quite that far. However, should his poll numbers continue to flounder, that could change.