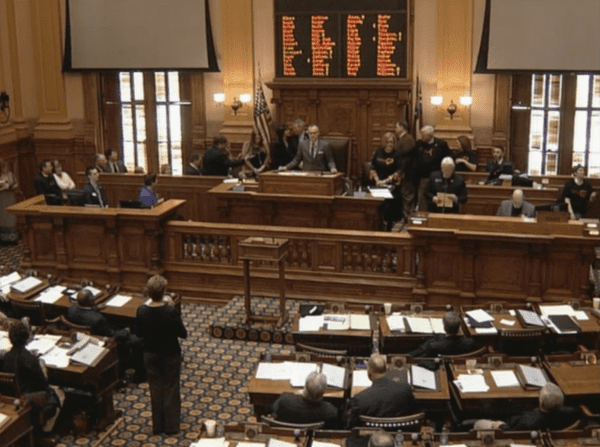 Happening now, the Georgia state senate is set to begin voting on an anti-gay religious freedom law that if passed would legalize anti-LGBT discrimination.
Times Free Press reports on the bill: 
A bill headed toward a vote in the Georgia Senate would allow faith-based organizations to refuse services to same-sex couples without government penalties, including loss of taxpayer funding.
The powerful Senate Rules committee on Tuesday added that language to a bill unanimously approved by the House last week allowing religious officials to decline performing same-sex marriage ceremonies. The move combines two of the eight bills introduced this year seeking legal exemptions for opponents of same-sex marriage after the U.S. Supreme Court's ruling effectively legalized the unions.
The bill protecting pastors, however, received little opposition on its way to a House vote. Gay rights advocates though harshly criticized the broader Senate bill, known as the "First Amendment Defense Act," shielding adoption agencies, schools and other organizations from penalty for opposing same-sex marriage
Advocacy group Georgia Unites has also condemned the bill.
300+ #GA businesses want statewide #LGBT non-discrimination. #FADA is plain & simple bad for business. #GAPol pic.twitter.com/XquHFsPS43

— Georgia Unites (@GeorgiaUnites) February 19, 2016
When the Senate votes on #FADA today, remember: It could jeopardize funding for domestic violence victims. #GAPol pic.twitter.com/YDAxyXntm3

— Georgia Unites (@GeorgiaUnites) February 19, 2016
Watch the Georgia senate in session, below.