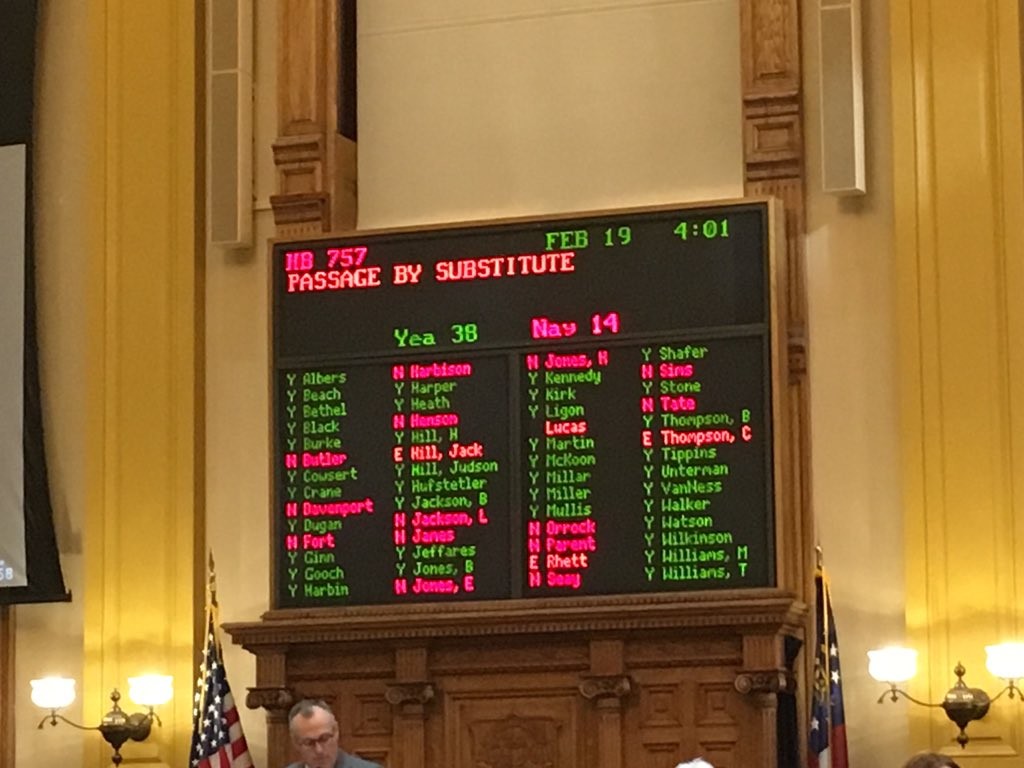 The Georgia Senate has passed a bill that has been called a roided up version of Indiana's heinous religious freedom law that brought disastrous consequences to the Hoosier State and its LGBT citizens.
By a vote of 38 to 14, the Senate approved the bill that combined the proposed Pastor Protection Act and First Amendment Defense Act to create one "super" anti-gay bill. As Towleroad reported earlier this week, this combined law would give virtually every individual and entity — from government employees and contractors to nonprofits groups and for-profit businesses — a license to discriminate against same-sex couples and their children.
The Advocate reports on today's vote: 
The bill's lead sponsor in the Senate, Republican Sen. Greg Kirk, positioned the legislation as a "neutral" "live and let live bill," claiming that it does not privilege a certain opinion about marriage over another.
"We as a state are full of hospitality, and we have room for all people," Kirk said on the Senate floor today, defending his bill. "This legislation is about equal protection and not discrimination. … This bill protects the constitutional rights of individuals and faith-based organizations in Georgia."
"This bill takes nothing away" from LGBT couples in Georgia, Kirk argued. "We are providing protections for all beliefs."
Fran Millar, a Republican representing Atlanta, argued that the legislation actually expands the state's understanding of marriage by adding, for the first time to state statute, that marriage is a union "between two people" without referencing gender.
"This language, between two people, that's a big deal in that state," said Millar. "Let's remember what we're really talking about here. And shame on us, because we let the media [control the conversation]. … It will pass, I have no doubt about it. Let's be perfectly straight about what's going on in the bill — and that was not a pun, I might add — and let's move forward."
Democrats were not having the arguments put forth by Republicans:
"This bill is license to discriminate," said Sen. Vincent Fort, the Democratic Whip representing Atlanta. "It would not be only a license to discriminate against the LGBT community, which is bad enough. It would be a license to discriminate, creatively, against others. … This issue will continue to plague us until it is made right."
"This FADA is [the Religious Freedom Restoration Act] on steroids," said Horacena Tate, the Democratic Caucus Chair representing Atlanta. "And unfortunately, it is also state-sanctioned discrimination. … Religious liberty does not justify treating the LGBT community different than others."
"It's important to listen to our job creators, and learn from the mistakes of our friends in Indiana," said Sen. Tate. "Discrimination is bad for business."
Nan Orrack, an Atlanta Democrat, added, "[This bill] definitely sends the message that if you want to discriminate based on your views of marriage, have at it. The government's not going to have a thing to say about it. It's open season."
Read tweets from those following the story in Georgia today, below.
#Georgia #Senate passes #FADA and #Pastor Protection Act 38 to 14 #gapol #gagop #gadems Now goes to the #House

— Lori Geary (@lorigearymedia) February 19, 2016
#FADA has been passed in the senate along party lines, showing how little regard GOP senators have for the well-being of Georgia. #gapol

— GA Senate Democrats (@GASenateDems) February 19, 2016
LEGALIZED Discrimination passes in Georgia @GAEquality @GeorgiaUnites 38-14 #gapol #disgrace #disgusting pic.twitter.com/P9l5F7eHpx

— AmandaATL (@Amanda_ATLCHIK) February 19, 2016
#Republican State Sen Greg Kirk talking about his #FADA bill, calling it equal protection not discrimination #gapol pic.twitter.com/BZPio7B6GN

— Lori Geary (@lorigearymedia) February 19, 2016
.@Senatorfort: Fear is not an excuse for discrimination. Ppl have a right to their beliefs, but not to discriminate. #HB757 #gapol

— Jon Richards (@SiteROI) February 19, 2016
.@SenGloriaButler – had us all listening. "I refuse to believe the nature of our state is so dark," #FADA #gapol

— Liz Flowers (@flowersliz) February 19, 2016
Party line vote on #FADA #gapol pic.twitter.com/W0LzDakxRV

— Liz Flowers (@flowersliz) February 19, 2016