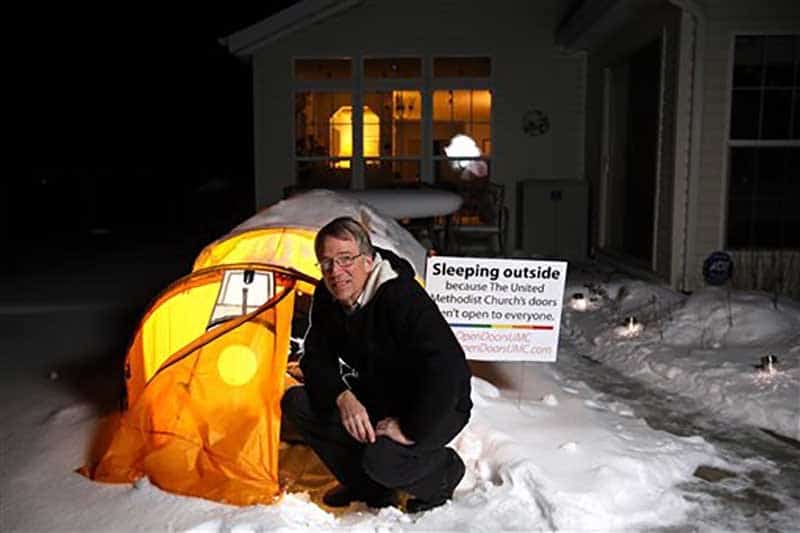 A Michigan pastor is sleeping in a tent outside his house every night in protest of the Methodist Church's stance on gay rights.
Parchment United Methodist Church's The Rev. Michael Tupper started his protest on November 30 and plans to keep it up for a total of 175 consecutive nights. He reportedly heads out to his tent each night at 9:30 PM and returns to his home the following morning at 6:30 AM.
Tupper has a sign outside his tent as well that reads, "Sleeping outside because The United Methodists Church's doors weren't open to everyone." There's also a rainbow border underneath that statement.
The Battle Creek Enquirer reports: 
"It's a symbol of how our denomination, the United Methodist Church, is responding to LGBTQ persons and pushing them outside the church," Tupper said, adding that members of the LGBTQ community "are being forced out of our church and into the cold."
Tupper often pitches the tent in the front yard of his Van Buren County home, but he has also taken it on the road, sleeping in front of United Methodist conference headquarters in Indianapolis and Madison, Wisconsin. He plans to camp outside of United Methodist offices in Columbus, Ohio and Des Moines, Iowa, and take his tent in May to the church's General Conference in Portland, Oregon, where clergy and laity are expected to discuss the church's official position on gay pastors.
"My ultimate goal is to raise awareness of the problems of discrimination and to inspire people to make a change to allow for LGBTQ persons to be married in our church and to allow LGBTQ persons to serve as pastors in our church," Tupper said.
Tupper has a history of advocating for the LGBT community. Last July, he joined 9 other members of the Methodist Church in protesting the ousting of fellow pastor Benjamin Hutchison after he came out as gay. Supper went on to sign Hutchison's marriage license when Hutchison married his partner of five years just days after being forced out of the church.
Tupper faced disciplinary action from the church as a result of that incident. He also ruffled feathers among the clergy when he signed the marriage license for his daughter's same-sex wedding in Baltimore back in 2014.
[Photo via Kalamazoo Gazette]