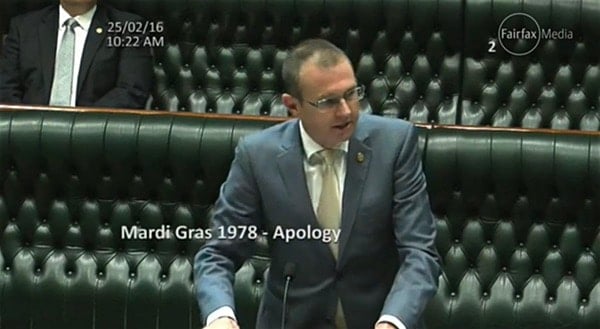 53 Australians arrested and beaten by police in 1978 at a gay rights march that would evolve into what is known today as Sydney's Gay and Lesbian Mardi Gras, received an official apology from the New South Wales government on Thursday.
Watch the apology here.
On Thursday morning, Liberal MP Bruce Notley-Smith delivered the Government's apology.
"We recognise that you were ill-treated, you were mistreated, you were embarrassed and shamed, and it was wrong," he said.
"I hope it's not too late that you can accept an apology but also we want to recognise that for all of that pain that you went through, you brought about fundamental change in this society and fundamental change for the many gay and lesbian people like myself, who can be open and relaxed about ourselves.
"You were the game changers."
He continued: "For the mistreatment you suffered that evening, as a member of this Parliament, who oversaw the events of that night, I apologise, and I say sorry.
"As a member of a parliament that dragged its feet on the decriminalisation of homosexual acts I apologise."
The Sydney Morning Herald adds:
The bipartisan apology, unanimously passed in both houses of parliament, drew emotional and at times highly personal reflections from MPs, including the Attorney-General Gabrielle Upton and the Treasurer Gladys Berejiklian. Mr Notley-Smith recounted the pain of growing up as a gay teenager in Sydney at the time of the melee.
That evening, more than 500 activists took to Taylor Square in Darlinghurst in support and celebration of New York's Stonewall movement and to call for an end to criminalisation of homosexual acts and discrimination against homosexuals. The peaceful movement ended in violence, mass arrests and public shaming at the hands of the police, government and media.
About 70 of the original protesters and their supporters rose for a standing ovation as Mr Notley-Smith ended his highly charged speech, commending the tireless activism of the 78ers and acknowledging that the Sydney Gay and Lesbian Mardi Gras had as its foundation the violence and struggle of that night.
Many of the 78ers who took part in the first march were at Parliament for the apology and gathered for photos: