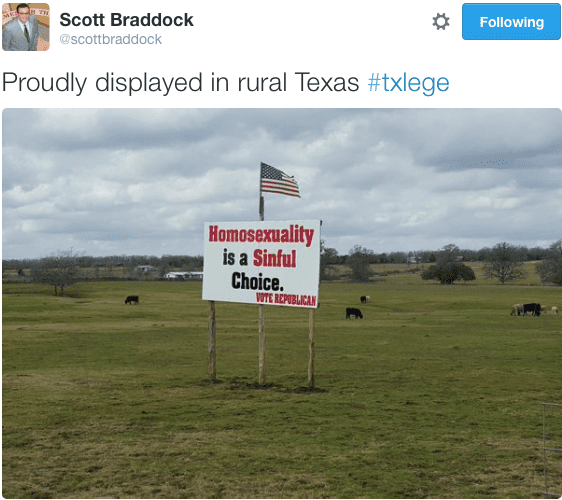 Longtime Texas political journalist Scott Braddock spotted the above sign somewhere between Austin and Houston on Saturday.
Early voting in Texas' March 1 primary begins Tuesday, and the sign is certainly in line with the state Republican Party's current platform, which endorses the discredited practice of "reparative therapy" and states:
"Homosexuality is a chosen behavior that is contrary to the fundamental unchanging truths that have been ordained by God in the Bible, recognized by our nation's founders, and shared by the majority of Texans. Homosexuality must not be presented as an acceptable alternative lifestyle, in public policy, nor should family be redefined to include homosexual couples."
Perhaps the most surprising thing about the sign is that everything's spelled correctly, but it's also worth noting that in Lamar County, Texas, voting Republican could also mean voting for an openly gay clerk in 2016. And the cattle in the background? Well, they could be gay, too.