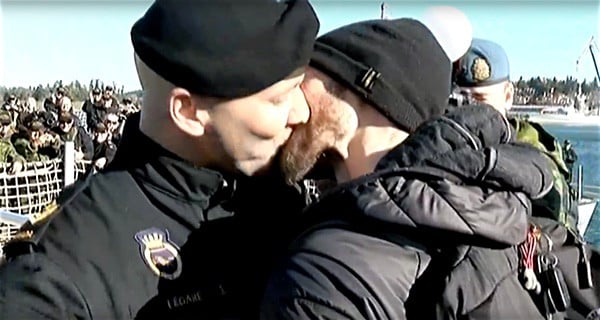 The Canadian Navy's tradition of a homecoming kiss after a deployment at sea made history yesterday when a gay sailor kissed his partner. It was the first time the ceremonial kiss was between two men.
There were loud cheers today when Master Seaman Francis Legare embraced his partner, Corey Vautour, after more than eight months at sea. "I have been away for 255 days, so it feels great," a smiling Legare said. "I am speechless."
HMCS Winnipeg, which has a crew of 250, returned to Victoria on Tuesday after a tour in the Caribbean and eastern Pacific. Being the first sailor off a ship is considered an honour and privilege in the Canadian navy, and it's decided by a random raffle.
Watch the kiss and a CBC report: