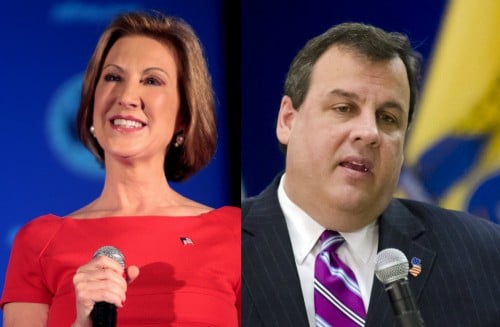 Carly Fiorina and Chris Christie have ended their 2016 presidential bids after coming in 7th and 6th place, respectively, in Tuesday's New Hampshire primary.
Florina shared her news on Twitter with a link to a longer announcement on Facebook.
Today, I am suspending my campaign. My full statement is here: https://t.co/8QElLZoc1W

— Carly Fiorina (@CarlyFiorina) February 10, 2016
Fiorina was an unconventional candidate. Her only previous political effort had been a 10-point loss in a race for U.S. Senate in California, and her tenure at Hewlett-Packard was most notable for her being fired by the board of directors after an unsuccessful merger with Compaq.
Still, Fiorina struck a chord with many Republican voters, many of whom were especially drawn to her fierce anti-abortion viewpoints and spirited appearances on the campaign trail and in debates.
Fiorina, the only female candidate on the Republican side, devoted a considerable amount of time to attacking Hillary Clinton, whom she criticized for reducing her campaign to an appeal for a female president.
Christie, who has not yet publicly announced that he will suspend his campaign, reportedly told advisors that he would end his bid for the White House. The New York Times reports: 
Officials with Mr. Christie's campaign would not confirm the decision, but his allies confirmed his plans to drop out, with one saying, "He's done."
Mr. Christie's theatrical style and management of the recovery effort after Hurricane Sandy in 2012 had made him a national political celebrity, but when he began his campaign in June, he was unexpectedly an underdog. He was viewed with skepticism by conservative activists and beleaguered by the indictments of close associates in the George Washington Bridge lane-closing scandal.
His greatest impact on the presidential race may have come in the debate on Saturday, three days before the New Hampshire primary, in which Mr. Christie savaged Mr. Rubio as a scripted and superficial politician who lacked the qualifications for the presidency.
UPDATE 4:50 PM EST: NBC News has now confirmed Christie is making his announcement today.
BREAKING NEWS: NBC News has learns first from the @ChrisChristie campaign directly that he suspends his bid

— Kelly O'Donnell (@KellyO) February 10, 2016