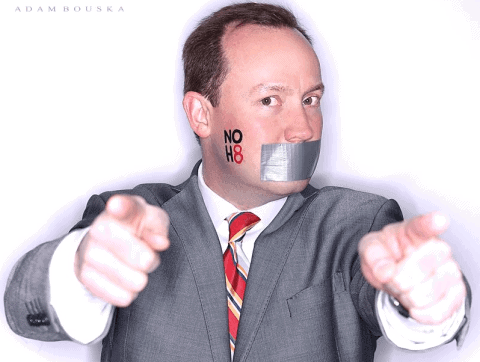 A group of anti-LGBT pastors is again threatening to try to overturn Dallas' LGBT nondiscrimination ordinance, but one city council member says the so-called Christians have no prayer of succeeding.
A week after Houston's Equal Rights Ordinance (HERO) was repealed in November, the Dallas City Council voted unanimously to update language in its own LGBT nondiscrimination law — which has been in place since 2002 — to strengthen transgender protections.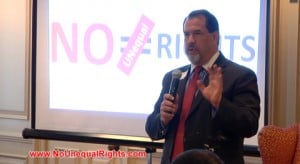 According to Charisma News, a group of pastors including Houston's Dave Welch (right), who helped lead the anti-HERO campaign, met behind closed doors Tuesday to discuss strategies for overturning the Dallas ordinance. But Councilman Philip Kingston (above), an outspoken supporter of LGBT protections, said given Dallas' more progressive electorate — as well as stricter requirements for citizen referendums in the city's charter — he's not worried.
"I'm tempted to say, 'Bring it!' But I hope they use their congregations' money in line with Jesus' injunction to love thy neighbor as thyself instead of wasting it on attempting to oppress a vulnerable group," Kingston told Towleroad on Wednesday.
Welch told Charisma News the Dallas ordinance allows men to use women's restrooms — which is, of course, the same fear-mongering lie used by him and other anti-LGBT bigots to con voters into repealing HERO.
"This threat of personal safety and privacy against women will also criminalize Christian business owners is the same threat we're trying to address," Welch said. "It's just another in the latest sequence across the nation, being implemented by the Human Rights Council and radical LGBT movement, forcing (LGBT regulations) on the local community. Often because we simply have not paid attention to who we put into office at city level, they're too easily manipulated by emotional rhetoric. It's time to stand up and turn back to Judeo-Christian framework, morality and law."
Unfortunately for Welch, his group would need roughly 50,000 signatures from registered voters to force the Dallas City Council to either repeal its LGBT nondiscrimination ordinance or put it before voters. In Houston, which has twice as many registered voters, Welch's group failed to gather the necessary 17,000 signatures, and a judge determined they committed widespread forgery in their desperate attempt to do so.
Despite the judge's ruling, the all-Republican Texas Supreme Court later ordered the Houston City Council to place HERO on the ballot, since the city secretary had initially certified the group's bogus petition. But it's highly doubtful officials in Dallas would make the same mistake.
Realistically, anti-LGBT bigots' only hope for overturning nondiscrimination ordinances in places like Dallas, Austin and San Antonio would be for the Texas Legislature to pass a law barring cities from enforcing them, as states such as Arkansas and Tennessee have done. But in last year's Texas legislative session, the state's chamber of commerce – in light of intense business backlash over Indiana's anti-LGBT "religious freedom" law — helped put the kabosh on more than 20 discriminatory bills.