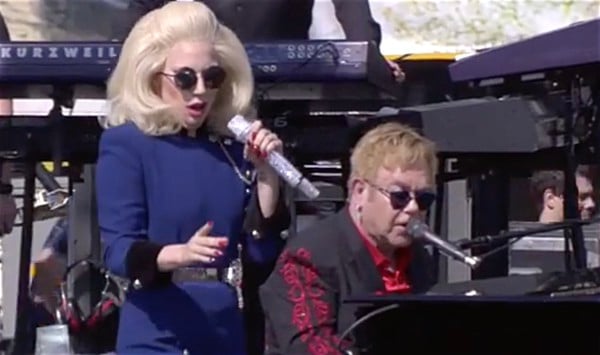 Elton John wanted to thank the city and community for allowing him to host his Academy Awards party there every year, so he returned to the spot where he said he spent so much money over the years he could have "probably bought Los Angeles:" the parking lot of Tower Records on the Sunset Strip.
Elton played for more than an hour, and brought out Lady Gaga to sing with him on his classic "Don't Let the Sun Go Down on Me".
Sunset Boulevard was closed off for more than three blocks to hold the throngs of people that found out about the free concert, which was only announced the night before.
West Hollywood Mayor Lindsey Horvath introduced John, telling the audience that over the last 24 years, his AIDS Foundation has raised more than $300 million for research and treatment.
During the show John also noted that it was only a short distance away, at the long-running folk-rock Troubadour nightclub, where he made his acclaimed U.S. debut in 1970.
"I was terrified," he said. "We didn't know what to expect, because we had never been to America before."
Those performances ignited U.S. music industry interest in John, and he quickly became a major star here.
He then performed "Your Song," his first U.S. hit, noting that it was among the numbers he played at the Troubadour almost 46 years ago.
Wrote Gaga on Instagram following the concert: "This great man has inspired generations with his powerful music and warm heart there will never be another like him and there never was before. His uniqueness is compounded by his ability to love endlessly while also creating the biggest hits the world has ever known."
Elton's husband David Furnish was also on hand to facilitate and witness the spectacle.
Two more selections from the concert: