"Hey there! What are you looking for??" Grindr user "UT Student" wrote to Huey Rey Fischer recently.
"Your vote!" Fischer responded, according to screen grabs of the conversation provided by his campaign.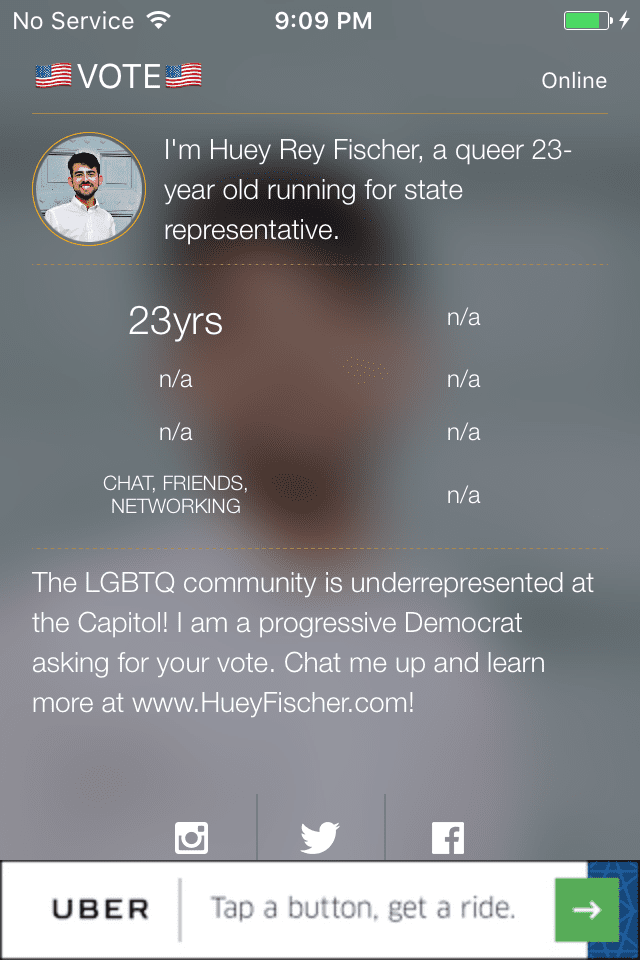 "Lol, what??" UT Student said.
"Haha, I'm running for state representative here in Austin as a young, queer Democrat," Fischer wrote.
And with that, "UT Student" pledged his support for Fischer, a 23-year-old candidate for Texas House who may be the first politician in history to use gay dating apps to personally engage voters.
"We are going beyond the traditional campaign strategies," said Fischer, one of seven Democrats seeking an open legislative seat in Central Austin. "Tinder and Grindr help us directly connect with other millennials in a fun way. The electorate is changing and so is the game of politics."
Fischer's campaign manager, Allison G. Heinrich, said Grindr and Tinder users have welcomed the outreach.
"They are committing to vote for Huey because they see a candidate who can actually relate to them," she said.
In another exchange, Fischer asked Tinder user "Christopher" whether he was registered to vote.
"Um, yes I am haha! Why do you ask?" Christopher said.
"I'm running for state representative as a Democrat here in Austin. I hope I can get your vote," Fischer said.
"Of course I'll vote for you," Christopher replied. "Omg, this is all happening so fast."
Fischer's use of gay dating apps is just the latest example of his decision to make his sexual identity a central part of his campaign.
It's an unusual strategy, especially for Texas, but it could help set Fischer — who's been endorsed by both the Gay and Lesbian Victory Fund and Stonewall Democrats of Austin — apart from the crowded field in one of the state's most liberal districts.
While some out candidates shy away from discussing their LGBT status in the media, Fischer sees it as an issue in the race.
"I am the LGBTQ son of a formerly undocumented mom from Mexico and a Jewish, liberal dad from Brooklyn," his campaign site states. "Republicans have advanced a hateful agenda against my family and thousands of other Texas' families that they intend to continue in 2016. As Democrats, we need to stop playing defense. It is time to push back with a positive and progressive agenda that benefits all Texas families."
Watch Fischer discuss his campaign for fellow gay Texan Nathan Manske's "I'm From Driftwood" LGBTQ story project below.