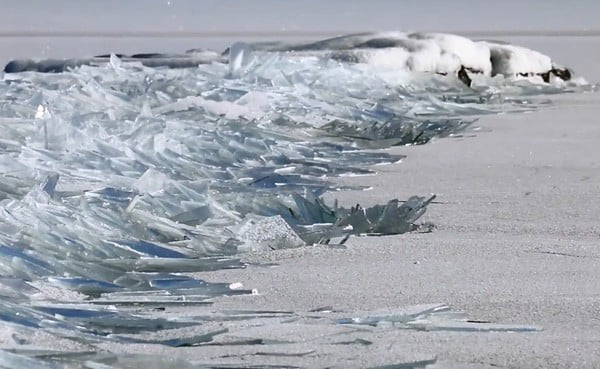 Nature can be really cool.
As is the ice stacking on Lake Superior near Duluth, Minnesota, which in this clip is filmed at normal speed.
Four hours of 12-15 mph steady winds from the SW led to the movement of the large sheets of ice on Lake Superior on February 13, 2016. The conditions during the two hours of filming ranged from -8°F to +3°F air temp (-20°F to -8°F windchill) with winds 5-10 mph from the SW. Due to the mild winter, Lake Superior has experienced less ice cover than usual, and consequently the ice has not formed as thick as typical winters. (Weather data courtesy of the National Weather Service in Duluth) [For our friends using the metric system: Celsius: – 22c to -29c; wind speed from: 19-24 km; ice thickness: .5cm – 7.5cm]
This video is being shown at normal speed. For those who have not witnessed an event like this in person, it may look as if this is time-lapse photography or video processed at a faster speed. Some ice stacking events move more slowly, especially when the wind is weaker or intermittent. The large sheets of ice shown in this video had pretty good momentum from sustained winds, but at one point the ice came to a groaning halt and the silence seemed almost deafening; it was a little eerie. Then the breeze picked up and the ice was on the move again, stacking plates. I enjoyed a two hour immersion in this experience at Brighton Beach, creating photographs and video footage and simply observing. This two minute compilation is a small sampling of what was recorded.
Watch: