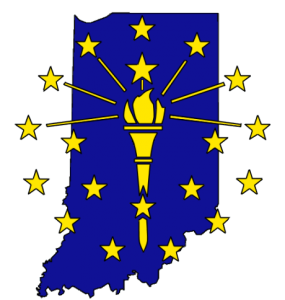 Republican lawmakers in the Indiana senate have killed a civil rights bill that would have offered non-discrimination protections to gay, lesbian and bisexual Hoosiers. The bill, however, would not have provided protections for the state's transgender citizens. 
The Fort Wayne Journal-Gazette reports: 
The Senate Republican caucus killed the bill in caucus even though Senate President Pro Tem David Long, R-Fort Wayne, said last week the measure would be called for debate whether it had enough votes to pass or not because of the importance of the subject.
Twenty-seven amendments had been filed and were expected to be debated Tuesday before the news came down.
The proposal was bashed by advocates on both sides. Gay rights advocates said the protections did not go far enough, particularly without including transgender Hoosiers. Religious conservatives said granting any rights to gay Hoosiers would trample on religious liberties.
Freedom Indiana, which called the bill "deeply flawed", blasted Republican lawmakers for killing it in caucus before it could reach a vote on the senate floor. The LGBT advocacy organization wrote on Twitter,
"SHAMEFUL: #SB344 will not be heard on the Senate floor. Inaction is NOT a solution—this is a grave disappointment. […] #SB344 was a deeply flawed bill—& we were working to fix it. But doing absolutely nothing? That's not a solution to a very real problem.[…] #LGBT Hoosiers face legalized discrimination each & every day. Inaction on #SB344 does NOTHING to fix that. #INLegis"
SHAMEFUL: #SB344 will not be heard on the Senate floor. Inaction is NOT a solution—this is a grave disappointment. pic.twitter.com/EheYuosQ1m

— Freedom Indiana (@freedom_indiana) February 2, 2016
#SB344 was a deeply flawed bill—& we were working to fix it. But doing absolutely nothing? That's not a solution to a very real problem.

— Freedom Indiana (@freedom_indiana) February 2, 2016
Indiana lost $60 million in revenue after #RFRA—not to mention our tarnished reputation. Inaction on #SB344 does NOTHING to fix that.

— Freedom Indiana (@freedom_indiana) February 2, 2016
#LGBT Hoosiers face legalized discrimination each & every day. Inaction on #SB344 does NOTHING to fix that. #INLegis

— Freedom Indiana (@freedom_indiana) February 2, 2016