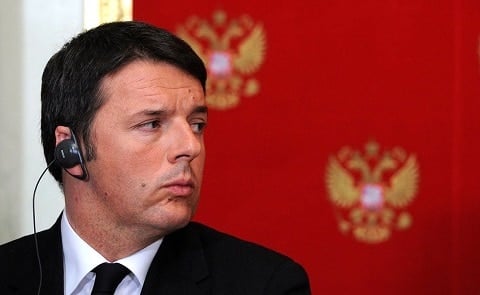 Italian Prime Minister Matteo Renzi says he is prepared to call a confidence vote on a civil union bill that is currently stalled in Parliament due to opposition from the Five Star Movement party to provisions on stepchild adoptions – granting a gay person the right to adopt their partner's children. Renzi's Democratic Party (PD) won't stand for that provision to be cut from the bill.
In an unexpected direct intervention in a debate he has largely stayed out of, Renzi said he regarded the legislation to give gay couples legal recognition and protection for the first time as important as his other reforms of the labour market and the parliamentary decision-making process.
If he did call a confidence vote, Renzi would run the risk of losing it and having to go to the polls just as he enters his third year since becoming premier via an internal party coup.
But with the PD well placed in opinion polls, that would be a less daunting prospect for Renzi than for some of his political rivals.
For gay rights activists, and many sponsors of the reform, [cutting the stepchild provisions] is a red line. They argue that the status quo, where children raised in gay households, often born through surrogacy, have only one legal parent, is unacceptable.
"If government [coalition] agreement means giving up on the stepchild [adoptions], I am against it," a leader of the PD's leftist faction, Roberto Speranza, said after Renzi.
PD senators are to decide how to proceed on Tuesday, hours before the upper chamber resumes voting on the reform. If the law clears the Senate hurdle, it will pass to the lower chamber, where its passage is expected to be less difficult.
Italy lags behind every western European nation on rights for gay couples.
(Image via Wikimedia Commons)