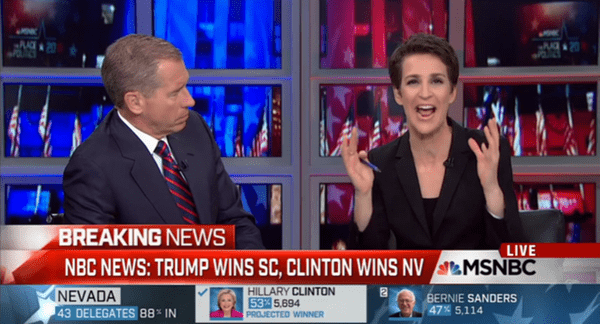 During Saturday's election coverage of the Republican South Carolina primary, Rachel Maddow exposed what she called a "nasty campaign tactic" used by Ted Cruz in his attempt to defeat Donald Trump in the Palmetto State. That "hall of fame anti-gay campaign tactic", as Maddow put it, was an anti-gay robo-call that sought to paint Trump as a liberal pro-LGBT candidate.
The robo-call was issued not by Cruz's official campaign but rather one of his Super PACs. It used audio of an interview Trump gave to a lesbian reporter earlier this month, which we previously reported on. 
That reporter asked Trump at the time, "When President Trump is in office can we look for more forward motion on equality for gays and lesbians?" Trump responded, "Well, you can. And look, again, we're going to bring people together, and thats your thing and other people have their thing."
This interaction caused the voice-over actor in the Cruz robo-call to lose his damn mind:
Stop! What does she mean by forward motion? What is he agreeing to? It's not about tolerance anymore. It's about mandatory celebration. It's about forcing people to bake cakes and photograph gay weddings. Forcing clergy to officiate, it's about transgender bathrooms in your child's school, it's about tearing down our Judeo-Christian values, it's about tearing down our America."
The call went out to over 100,000 households in South Carolina ahead of Saturday's primary and, as Trump's victory shows, it did not seem to significantly deteriorate his lead.
During Maddow's discussion of this robo-call, Republican pundit Nicole Wallace argued that issues like LGBT rights no longer hold as much sway with "a large swath" of Republican voters. Maddow, however, pointed out that all of the Republican candidates running for president are on record as being opposed to marriage equality.
Watch and listen to the anti-gay robo-call that Cruz used to try and sink Trump, below.