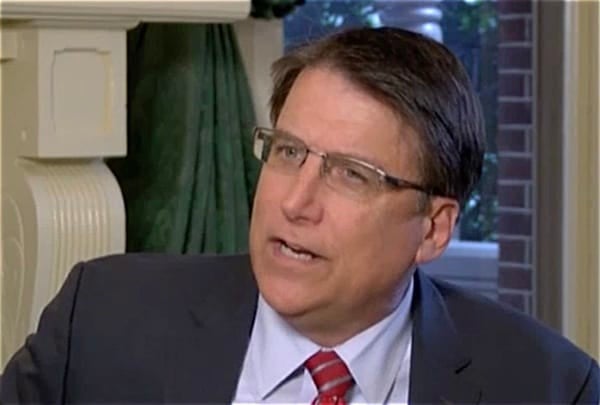 North Carolina Governor Pat McCrory promised to react immediately with state lawmakers if Charlotte passed an LGBT nondiscrimination measure and has indeed come out of the gate swinging after the measure was passed on Monday night in a 7-4 vote.
In a statement Tuesday afternoon, Gov. McCrory said legislators had told him they are planning a bill to block the LGBT nondiscrimination ordinance not only in Charlotte, but also in any other jurisdiction in the state that passed a similar policy.
"As I communicated and predicted prior to the vote, state legislative leaders have notified me about introducing legislation that would correct this misguided government regulation and ensure it will not happen in any town or city in North Carolina," McCrory said.
"I am disappointed and saddened Charlotte city government initiated overreaching regulations that change basic standards and expectations of privacy regarding restrooms and locker rooms," he added.
"As governor," he continued, "I will support legislative action to address this regulation and will remain committed to protecting the privacy and safety of all men, women and children of all ages in North Carolina. My position is consistent with challenging government overreach by the federal, state and now a local government."
The Charlotte Observer conducted an interview with McCrory last night in which he talked at length about his objections to the nondiscrimination ordinance. Of course, it's all fearmongering about trans people and bathrooms.
McCrory called the bill "a pretty dramatic change in basic standards and values" that affect people beyond Charlotte which"allow someone who has the anatomy of one gender to use the bathroom or locker room facilities of another gender."
Said McCrory:
"What I anticipate is immediate legislation in April which would ensure that no city or town in North Carolina would be allowed to pass a regulation or implement a regulation which would basically invade the basic standards and privacies of people who want to feel secure in a restroom or locker room facility….From a state perspective it's saying that we're making sure that we're not having too much intrusion by not just the federal government but the state government and local governments."
Added McCrory:
"I'm getting involved in an issue which transcends political boundaries."
Watch:
Buzzfeed's Dominic Holden notes, "There are no documented cases in the 17 states and 225 other cities with such laws on the books of people using the policies for nefarious purposes."