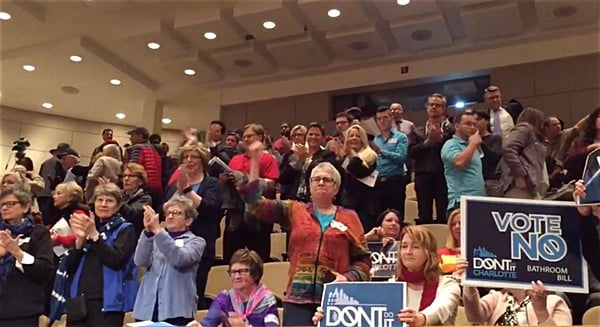 After several hours of debate, the Charlotte, NC City Council last night voted 7-4 to adopt protections for gay, lesbian and transgender people, the Charlotte Observer reports:
The changes mean businesses in Charlotte can't discriminate against gay, lesbian or transgender customers, in addition to long-standing protections based on race, age, religion and gender. The ordinance applies to places of public accommodation, such as bars, restaurants and stores. It also applies to taxis.
The most controversial part of the ordinance would allow transgender residents to use either a men's or women's bathroom, depending on the gender with which they identify.
The bathroom provision sparked the most opposition, with opponents mostly worried about the safety of women and girls in a public bathroom with people who were born male. Supporters said those fears were overblown, and that transgender people are at risk of violence in the bathroom.
Hey guess what Charlotte, we just did it. #CLTequality

— Equality NC (@equalitync) February 23, 2016
Approximately 140 people made comments in the public forum, the AP reports:
While supporters applauded the vote, opponents walked out of the council chamber, some of them jeering the decision. One man shouted at the council, "Charlotte the harlot, peddling perversion."
Charlotte City Council rejected a similar measure last year in a 6-5 vote.
Watch the vote:
Earlier on Monday, North Carolina Governor Pat McCrory vowed to intervene should the measure be passed.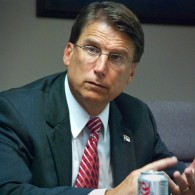 Said McCrory in an email to Council Republicans:
"It is not only the citizens of Charlotte that will be impacted by changing basic restroom and locker room norms but also citizens from across our state and nation who visit and work in Charlotte…This shift in policy could also create major public safety issues by putting citizens in possible danger from deviant actions by individuals taking improper advantage of a bad policy…Also, this action of allowing a person with male anatomy, for example, to use a female restroom or locker room will most likely cause immediate State legislative intervention which I would support as governor."
Expect some statement from McCrory's office today.
(pat mccrory image wikimedia commons)