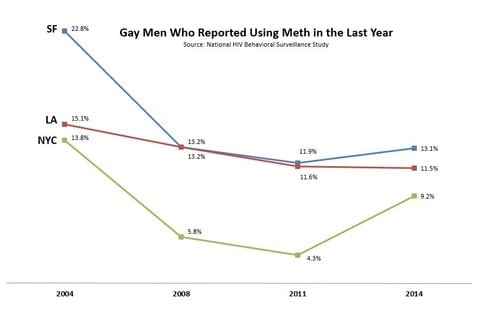 Activist Peter Staley says that in the absence of meth prevention campaigns which helped control the epidemic of use among gay men back in 2004, use of meth is on the rise again in NYC in a big way.
In 2010, I reached out to the principal investigators in three of those cities — New York, San Francisco, and Los Angeles — to see if meth use had dropped since the burst of anti-meth activism launched by the gay community in 2004. I reported the dramatic drops that occurred between 2004 and 2008, and fortunately, that good news was confirmed by the 2011 survey as well.
But since then, there have been many anecdotal reports of rising meth use in New York City, especially among younger gay men. So last week, I asked the health departments in all three cities to provide their 2014 results, and they confirm the anecdotal reports.
Adds Staley:
It's back to the drawing board, folks. New York State can kiss its Ending the AIDS Epidemic goals goodbye if it doesn't include meth prevention targeting a new generation of gay men who never witnessed the community's response launched in 2004 (with a big assist from annual city appropriations for meth prevention campaigns from 2004 to 2008).