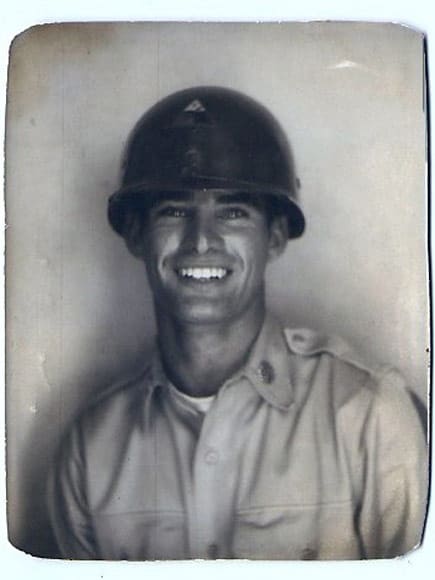 TRENDING. Vintage photo of handsome soldier goes viral: "When Derek Schwendeman of Newark, Delaware, posted a photo of his grandfather to Reddit last week, he had no clue the now 86-year-old would draw a legion of admirers. But the picture, which is captioned, 'My grandfather in 1950 before deploying to Korea,' has amassed almost 3 million views and a variety of passionate comments."
BINGHAM CUP. Nashville, Tennessee lawmaker withdraws resolution honoring gay rugby tournament named for 9/11 hero Mark Bingham following GOP backlash: "Clemmons, D-Nashville, withdrew House Resolution 150 on Thursday. It described the biennial tournament, which will take place in May, as a "prestigious event" that's expected to bring 1,500 players and guests to the city…Opponents believed the resolution was designed to trick them into voting for an LGBT event."
REPUBLICANS. Ted Cruz fires communications director Rick Tyler over false video he tweeted out calling into question Marco Rubio's faith: "The resignation of the aide, Rick Tyler — and the acknowledgment of error by Mr. Cruz — is a boon to his Republicans rivals, creating the kind of cudgel that could prove powerful at a crucial stage of the nominating contest. Mr. Cruz has been facing mounting allegations of dirty tricks by Mr. Rubio's team, and it came after the Cruz campaign was recently hammered after his allies spread a false rumor that Dr. Ben Carson was ending his campaign — just as voting in the Iowa caucuses was beginning."
KESHA. Taylor Swift donates $250,000 to Kesha after she lost her legal battle to get out of a contract with Dr. Luke who allegedly drugged and raped her repeatedly.
PRIDE. Canadian Prime Minister Justin Trudeau to march in Toronto Pride. 
We're delighted to announce that @JustinTrudeau will be the first Prime Minister in history to attend #PrideTO! pic.twitter.com/PbAu4KAyRS

— Pride Toronto (@PrideToronto) February 22, 2016
NORTH CAROLINA. Franklin Graham is freaking out over Charlotte's proposed LGBT non-discrimination ordinance: "It's really hard to believe that such a ludicrous law would even be seriously considered—and even harder to believe that at least 8 of 11 council members have said they would vote for it!"
HUMAN RIGHTS. Gay migrants face abuse in shelters across Europe: "Across Europe, gay, lesbian and transgender migrants say they suffer from verbal, physical and sexual abuse in refugee shelters, and some have been forced to move out. The AP found out about scores of documented cases in The Netherlands, Germany, Spain, Denmark, Sweden and Finland, with the abuse usually coming from fellow refugees and sometimes security staff and translators."
LIFEGUARD ON DUTY. First glimpses of Zac Efron filming the new Baywatch movie. 
GUN VIOLENCE. Six people died over the weekend in a shooting rampage in Kalamazoo, Michigan: "On Saturday, a 45-year-old white man named Jason Dalton went on a shooting spree over seven hours, killing six people seemingly at random and injuring two others. Dalton was an Uber driver and allegedly continued to take fares in between shooting people."
MUSIC. Rihanna and Drake release two music video versions of their song "Work." 
MALE MODEL MONDAY. Meet Mitchell Slaggert, whom you may recall from his Calvin Klein ad work. 
https://instagram.com/p/8kzK_6Cc3A/