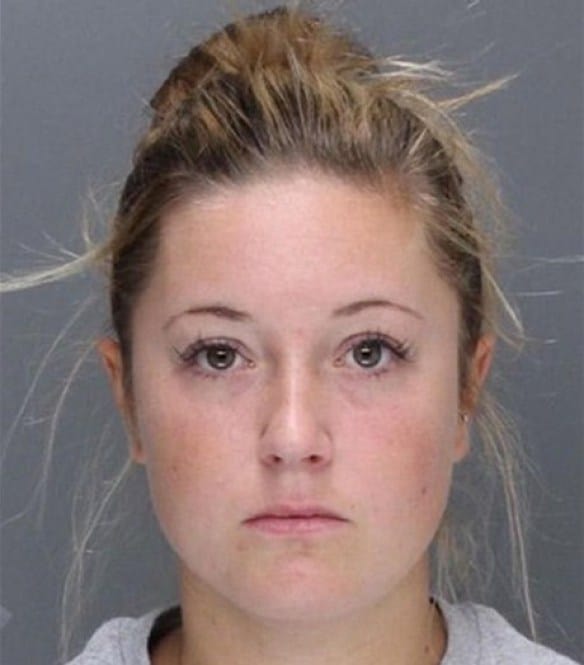 Kathryn Knott will serve five to ten months in jail for her role in a hate-motivated attack on a gay couple in City Center, Philadelphia on September 11, 2014.
Common Pleas Judge Roxanne Covington questioned how then-hospital worker Kathryn Knott walked away from the victims as one lay badly injured in September 2014.
She also ordered the 25-year-old Knott to serve two years of probation and get anger management treatment.
Knott, 25, of Upper Southampton, Bucks County, broke down in tears as Covington delivered the sentence. Her parents consoled Knott and hugged her after the sentence was read, and the victims quickly exited the courtroom.
She was taken into custody immediately after the hearing.
In issuing her sentence, Covington said she considered the homophobic slurs used by Knott and others in her group to be hate speech, even if Pennsylvania law does not recognize it as such.
She also said she'd struggled to understand how Knott, who worked in the health care industry, could leave ailing victims on the street.
"The entire group walked away from this," Covington said. "Until those faces appeared on the news no one responded – and did so only to save themselves from prosecution."
Knott was found guilty on misdemeanor charges of simple assault and conspiracy back in December.
In a statement she read before the sentencing came down, Knott said,
"I am so sorry to what happened to you both on the night of Sept. 11, 2014. I ask you now for your forgiveness and I hope that you some day will be able to provide it. … Again, I apologize to you and your families. I wish you nothing but the best."
One of Knott's victims, Andrew Haught, also addressed the court, saying Monday that he is unable to comprehend how a group of 15 people could have left him for dead:
"Not one of them even called for help. I will never forget that everyone in that group, including Kathryn Knott, left me in the alleyway to die."
Read more details from Knott's sentencing hearing courtesy of WHYY report Bobby Allyn's Twitter, below.
During sentencing, judge got personal, said she wondered how she would've felt if victims were her friends.

— Bobby Allyn (@BobbyAllyn) February 8, 2016
Knott said media coverage of event was most traumatic thing she's ever experienced. "This didn't happen to her. She did it," DA said.

— Bobby Allyn (@BobbyAllyn) February 8, 2016
ADA Mike Barry called jail time the only reasonable option for Knott, who tearfully asked victims for forgiveness today.

— Bobby Allyn (@BobbyAllyn) February 8, 2016
Knott's attorney said that perhaps she does need some education about how words do matter, and to not go along with a group's mentality.

— Bobby Allyn (@BobbyAllyn) February 8, 2016
Judge said emphatically: None of the defendants would've been in court if "others didn't rat you out."

— Bobby Allyn (@BobbyAllyn) February 8, 2016
Knott's mom ran up to try to hug her at defendant table but security stopped her. Knott eventually turned around and embraced over divider.

— Bobby Allyn (@BobbyAllyn) February 8, 2016