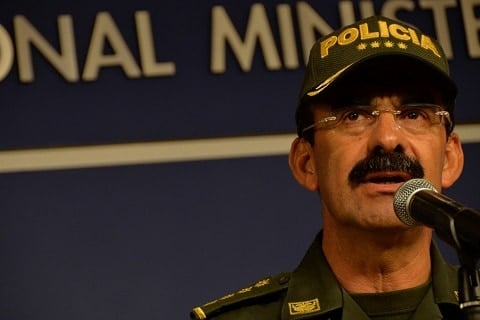 Colombia's police chief resigned yesterday following allegations that he was involved in the creation of a male prostitution ring that allegedly serviced several lawmakers. General Rodolfo Palomino is also being investigated for alleged illegal wiretapping of journalists' phones. In the past he has been accused by police officers of propositioning them for sex.
A statement from the office of Investigator General Alejandro Ordonez said testimony by police captain Anyelo Palacios, a video and "involvement of certain members of congress in complicity with some officers of the National Police force" will be used as evidence.
According to Reuters, local media have reported that the prostitution ring – known locally as the Fellowship of the Ring – included several serving officers.
In a statement, Palomino said:
"I appreciate that the relevant investigations are going ahead, as I requested, and I'm sure they will lead to the truth of false accusations that have been made against me in a reckless and sustained manner."
Former Senator and vice interior minister Carlos Ferro has resigned from his position following the release of a video from 2008 in which he discusses gay sex with Palacios.
(Image labeled for reuse with modification via Flickr)