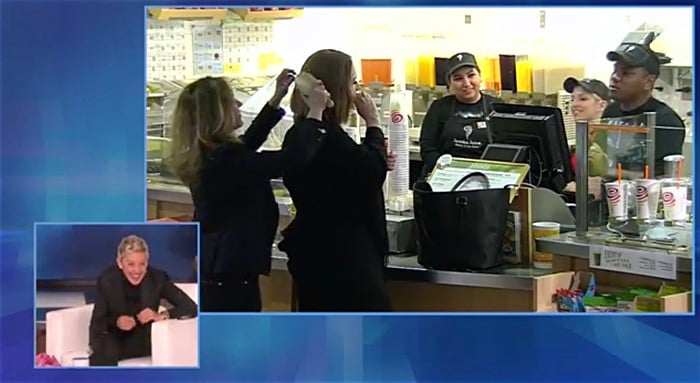 Workers at the Jamba Juice on the Warner Bros. lot were stunned when Adele walked into the shop and began asking them about smoothies. They were more shocked by what happened next.
The singer asked for a pair of scissors and then began cutting the wheatgrass which grows in a box inside the counter and munching on it. She then began making sounds like a deer before asking her "assistant" Simone to brush her hair.
Adele then pulled out a bottle of Amaretto and asked the workers to put it in a smoothie but when they refused she began taking shots from it, offering it to Simone to drink as well.
Finally, Adele revealed all the odd contents of her purse by dumping them onto the counter: Twizzlers, handcuffs, and knives.
Watch:
During the rest of the show Adele talked about her Grammys performance ("I was so embarrassed"). She said she cried the next day and treated herself to a burger and a beer.  She also talked about her family's trip to Disneyland and how it feels to be famous.
Recorded Ellen's outgoing cell phone message:
And performed her single "All I Ask".