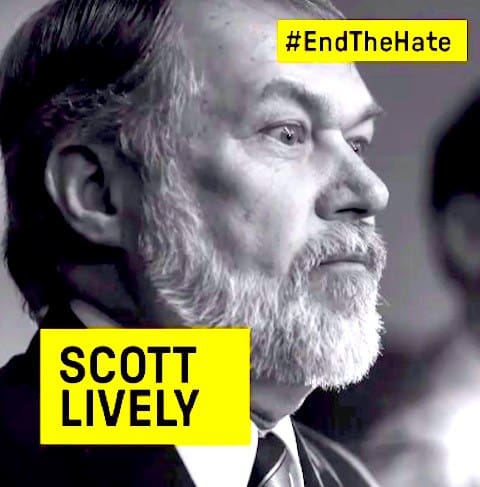 Scott Lively, one of the nastier of the many anti-gay bigots operating in the U.S today, has appeared on a radio show to promote his call for Russian-style laws worldwide banning gay "propaganda."
In 2014, Lively was profiled in the Human Rights Campaign's "The Export of Hate" report. He has been accused of crimes against humanity for inciting anti-gay hatred in Uganda and aiding in the passing of their "Kill the Gays" bill.
Speaking with with anti-gay radio host Janet Mefferd to promote his December 2015 open letter "to the pro-family movement," Lively said that gay rights activists want "absolute control of every institution of the culture" and aim to destroy Christians who object.
"A lot of people aren't going to want to hear this but really the model for being able to fix this is Russia…St. Petersburg became the first city that adopted the Russian anti-propaganda law that criminalizes homosexual propaganda to children. This is absolutely essential to be done and several other Russian cities adopted it, then they took it nationally and it was passed unanimously by the Russian Duma and Putin signed it. That's the law of the land in Russia."
He went on to say that Barack Obama orchestrated the coup in Ukraine in order to prevent anti-gay laws there:
"Immediately, five other countries, including Ukraine, were going to follow suit and enact that into law and it looked like there was going to be a steamroller, that we were finally going to have a counter-revolution in the world to push this back, because this agenda is global. Obama spent $700 million in the last three years pushing this throughout the entire world, but as soon as Putin gave indication, or Russia — it wasn't really Putin, it's the state or the national government itself — looked like they were sort of going to lead this charge, all of a sudden Obama pulled the plug on Russia."
Lively admitted that his conspiracy theory sounds ridiculous but added "one of the main reasons for [Obama] doing that was to stop the Russians from setting the example across the world because this agenda is heart and soul to Obama."
Listen to Lively's comments via Right Wing Watch below.
https://soundcloud.com/rightwingwatch/scott-lively-says-obama-orchestrated-the-coup-in-ukraine-to-prevent-spread-of-anti-gay-laws