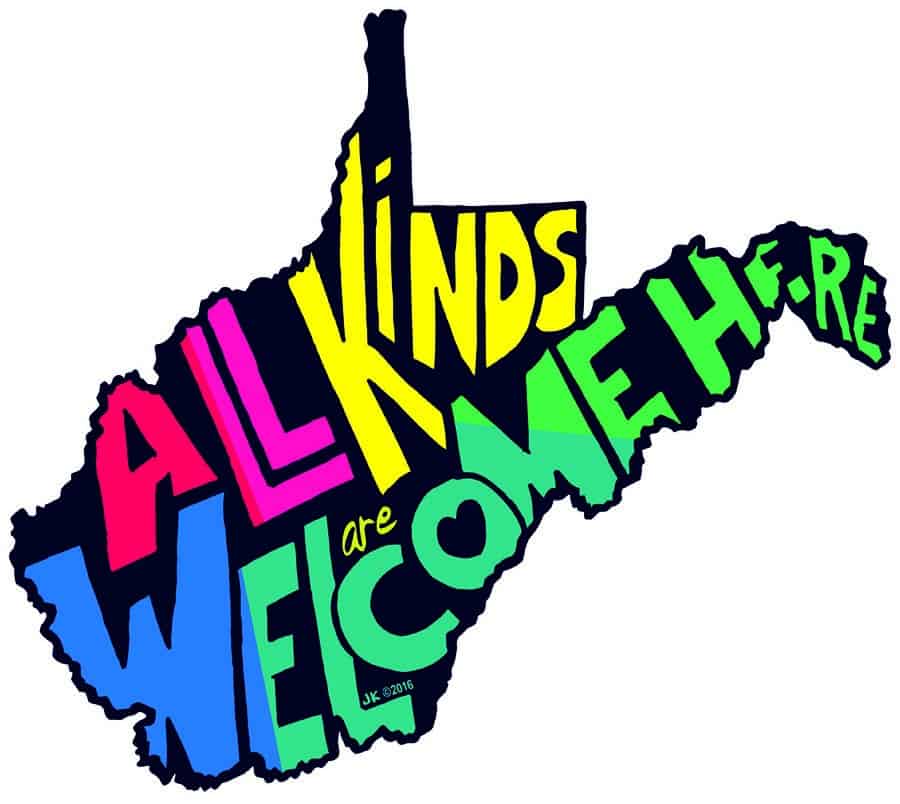 Using stickers, videos, hashtags and more, small businesses in West Virginia are pushing back against an anti-LGBT religious freedom law moving through the state Legislature.
As we mentioned the other day, the West Virginia House recently passed the Religious Freedom Restoration Act (RFRA) — a "license to discriminate" measure — in a 72-26 vote, with the support, shockingly, of 15 Democrats. The bill now proceeds to the Senate, where its prospects are less certain.
Fearing potential negative economic impacts similar to those suffered by Indiana last year, small business owners in West Virginia are doing what they can to help derail the measure, according to The Charleston Gazette-Mail. 
"I think we have enough challenges with the business climate in West Virginia already without the elected officials working as hard as they are to make it worse," said Frank Gonzales, co-owner of Mi Cocina de Amor in Charleston.
Gonzales is among those who'll be displaying a sticker like the one above on his business. Sam's Uptown Cafe and the Boulevard Tavern in Charleston plans to begin distributing the stickers Friday after launching the grassroots initiative with a viral Facebook post following the House's passage of RFRA: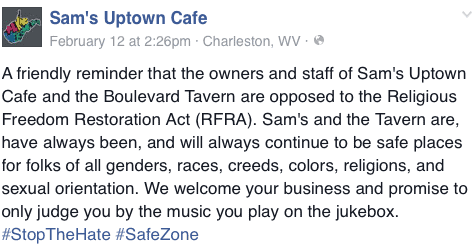 Despite the businesses' effort, however, some lawmakers appear intent on further damaging the state's reputation.
A day after RFRA passed the House, GOP Del. Tom Fast compared homosexuality to pedophilia and bigamy on the House floor. Fast was speaking in opposition to an amendment that would have prohibited Uber from discriminating against LGBT passengers. The amendment was ultimately defeated by Fast and 64 other lawmakers who voted against it.
"History and reason illustrates the insanity of according special civil rights protection to a person's sexual preference," Fast said. "Once homosexual, bisexual and transgender behavior is elevated to a protected status, there is nothing to stop bigamy, pedophilia or any other sexual practice from receiving the same protection."
Watch Fast's speech below.