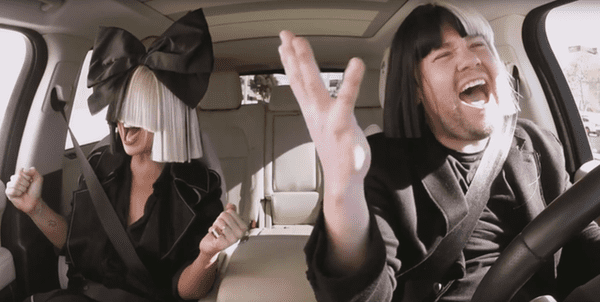 Sia was the latest late night guest to join host James Corden for a round of Carpool Karaoke on Tuesday night, and the Australian singer put her impressive pipes on display.
The pair sang some of her greatest hits so far including "Chandelier", "Diamonds" (which she wrote for Rihanna), "Elastic Heart", "Alive", and "Titanium:"
Sia also explained why she wears her large and theatrical wigs that obscure her face: "I don't wear this unless there's cameras around. I only wear this to maintain a modicum of privacy."
She added that she used to be an alcoholic and drug addict and thought about giving up being an artist. However, when she started getting more successful, she found it hard to cope with. That's when the wig was born. She thought to herself, "What doesn't exist in pop music at the moment? And that's mystery. There's pictures of everyone on Instagram at the dentist."
James and Sia also discussed how she believes that aliens are real and then test her ability to carry 12 eggs at one time (Corden went for the more random bits in her biography).
James also tried on a two-toned wig of his own for the ride.
Watch the pair belt it out on the way to work, below.