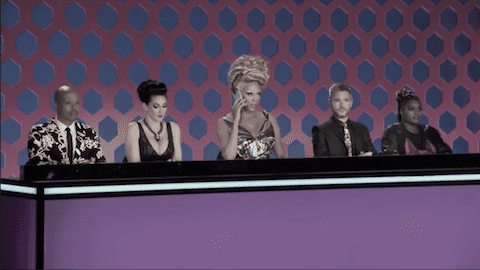 Last week's RuPaul's Drag Race ended with a shocking double-elimination, and that wasn't even the biggest twist. After sending home two queens, Ru placed a mysterious phone call, presumably inviting a late addition to the race.
Who's on the other line is anyone's guess, including all the ladies still left competing on season eight. See the remaining queens theorize in the exclusive clip below, and then check out the queens we think most deserve another shot at the crown.
Who do we think it's going be? Take a look at our top five picks:
Katya
She was last season's Miss Congeniality and a real fan favorite. Most people say she was sent home too soon, just missing the Top 3.
Ongina
https://www.youtube.com/watch?v=RUxYxs_4I_0
One of the most beloved queens in Drag Race history, Ongina brought some very real heart to this very silly show when she revealed her HIV status on air following a challenge win.
Raven
Mirror, mirror on the wall, who's the most sickening of them all? Season two's Raven, that's who. If Mama Ru really wanted to kick this competition up a few notches, bringing in Raven would certainly put the girls on notice.
Phi Phi O'Hara
Look, I wasn't a fan of Phi Phi during her season. She came off as insecure and antagonistic. However, if you've been keeping up with Phi's Instagram, she's been crushing it with unreal looks as part of her 365 Days of Drag challenge.
Willam
The strangest moment in Drag Race herstory has got to be Willam's shocking elimination in season four. First, she vomited on stage at judging. Then Ru sent her home for violating the rules of the show. She didn't even get a call back for All Stars. It's long past time to #FreeWillam.
Who do you think is coming back?