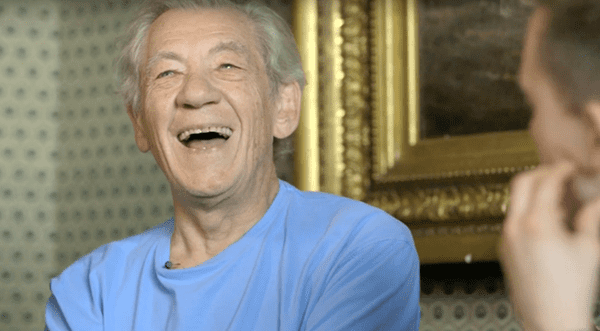 Sir Ian McKellen sat down with British columnist and YouTuber Owen Jones to talk about coming out and his iconic work as both an actor and a gay rights activist.
In the pair's wide-ranging interview, McKellen recounts what he calls the "romantic" experience of arriving at Cambridge University as a youngster from the north. His first reaction to his new surroundings? Noticing "how many beautiful young men there were."
As for when he discovered that he was gay, McKellen ribs Jones: "Oh, Owen. About the time other people discover that they're not gay. When the hormones start surging."
McKellen also spoke about what life was like as a young gay man living in a country where homosexuality was illegal. McKellen says,
"It was just the law of the land. And people like me were queer. That was the word, that was the nicest word that was used about us. By definition we were queer, we were odd, we were peculiar, strange, different–queer. Well, if you think that about yourself, it's not good. I was deeply closeted. "
McKellen notes that he and his friends preferred to use a different word to describe themselves–"camp."
Remarkably, McKellen says he didn't face much discrimination until he publicly came out in 1988. He then "faced a barrage of death threats."
Today, McKellen is a champion for coming out. "No one regrets being honest about their sexuality," McKellen says. "It is totally for the good of yourself, your friends, your family and society."
Of the dark period in Britain's history when homosexuality was illegal, McKellen adds, "I'm still very angry about it. Society treated us unfairly and cruelly, and without thought and without compassion and made the world a worse place."
McKellen also talks about HIV/AIDS, how a conservative right-wing politician inspired him to found the activist organization Stonewall UK, his relationship with Patrick Stewart, and his new Shakespeare app. Watch, below.