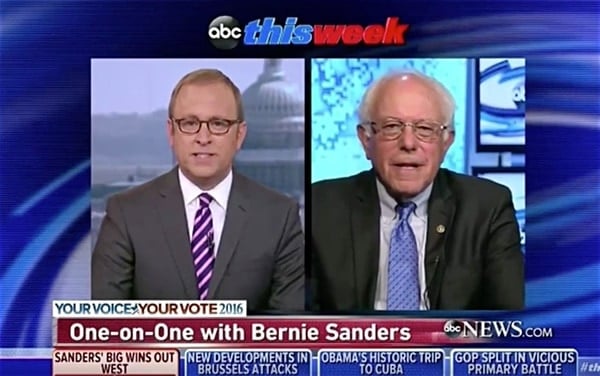 Bernie Sanders joined Jonathan Karl on ABC's This Week to discuss his path forward following a definitive sweep of Saturday's caucuses in Washington, Alaska, and Hawaii, in which he beat Clinton by wide margins.
When asked about his plan today, Sanders asserted that he has cut Clinton's delegate lead by a third and believes he'll end up with more pledged delegates than Clinton and be able to convince superdelegates to switch candidates and come over to his side.
Said Sanders when challenged by Karl about the steep delegate mountain he has to climb:
You're assuming that every super delegate who now supports Secretary Clinton will stay with her. You're not taking into consideration the fact there are hundreds of delegates, super delegates, who have not yet made a decision. We think we can win many of them.
And what we showed yesterday is, in fact, the momentum is with us; we think we're going to do well in Wisconsin. We think we got a real shot in New York. And then we go out to California. You go out to Oregon. That's the most progressive part of America. We think we're going to do very well there.
So I will not deny for one second that we still remain the underdogs, but we have come a long, long way, you will have to concede, in the last 10 months. We do have a path toward victory.
Karl asked if he's going to stop the negative campaigning against Clinton. Sanders suggested that he probably won't:
We have raised now 6 million individual campaign contributions averaging 27 bucks apiece. That's unprecedented in American political history. Secretary Clinton has super PACs; she has raised some $15 million at least from Wall Street, money from the fossil fuel industry and the drug companies.
Do I think the American people need to know? That, is that an important issue?
I think it is. Our vote's on the wall: I voted against the war in Iraq. She voted for the war in Iraq. That's an important issue. I am opposed to continuation of fracking. She supports fracking. Those are important issues. That's what a campaign is about.
Sanders said he wouldn't speculate about Clinton being a running mate, and also discussed his policy against boots on the ground in the war against ISIS, in light of the second-in-command being taken out this week by U.S. Special Forces on the ground.
Watch:
https://www.youtube.com/watch?v=BherTQPmd5U