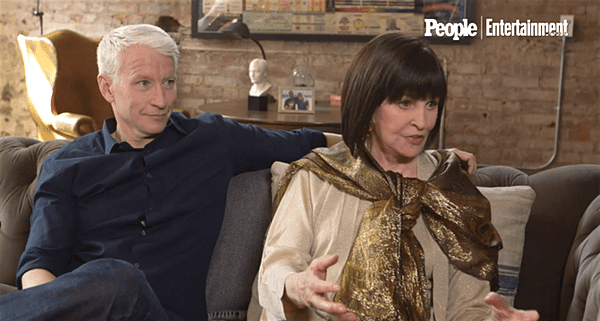 In a new interview, Gloria Vanderbilt reveals that she had a lesbian relationship as a teenager–much to the surprise of her son and co-interviewee Anderson Cooper.
Vanderbilt and Cooper recently wrote a book together, The Rainbow Comes and Goes, and are the subject of a new documentary, Nothing Left Unsaid.
The pair sat down to talk with Jess Cagle, editorial director for People and Entertainment Weekly, and Cooper found himself more than a little taken aback when his mother made her revelation.
"I, myself, when I went to [Miss Porter's School in] Farmington, [Connecticut] I went through a brief so-called lesbian relationship with a girl in school," Vanderbilt revealed after Cooper discussed coming out to the author.
In response, the CNN anchor appeared shocked, saying, "What? Hello," and adding, "this is news to me. You didn't mention this in the book, Mom."
"Cynthia, her name was, and she came once to visit my aunt in New York on holiday," continued Vanderbilt. "We had this sort of lesbian relationship and it felt so great. It felt so good and yet I thought, 'There's something about this,' and this is before the thing I knew about my mother. I thought, 'No, this is something that's not really what I want.' It was very brief."
Vanderbilt revealed that she was 13 at the time of the relationship, and said she now realizes, "I think almost everybody goes through at one point … of course, the thing is, now we realize there's no difference. Love is love."
Vanderbilt's mother, Gloria Morgan Vanderbilt, had been "accused" of being a lesbian in a 1932 custody trial. When Vanderbilt finally came to understand what that accusation meant, and what it meant to be a lesbian, it affected her deeply. She wondered as a child, "Is it something that maybe I have inherited?" Vanderbilt added, "That was very difficult for me growing up to try to figure it out."
In a video clip from People, Cooper also reveals that he knew he would be able to come out to his mother in part because she had described two of her gay friends as married, even though in the eyes of the law and in the eyes of most Americans at the time that was not the case.
Watch Cooper be shocked by his mother's revelation, below.
Disclosure: If you buy something through hyperlinks to supporting retailers, we may get a small commission on the sale. Thanks for your ongoing support of Towleroad and independent publishing.