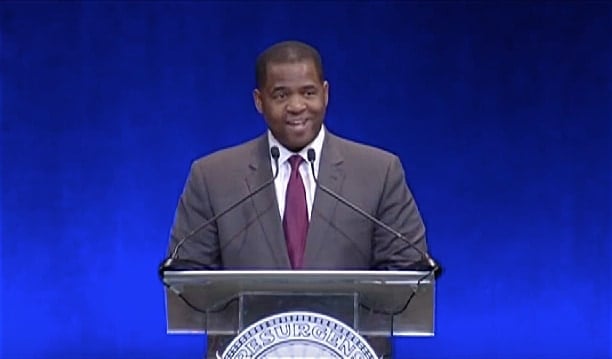 The Atlanta City Council is pushing the NBA to take the 2017 NBA All-Star Game, scheduled to be held next year in Charlotte, NC, and give it to Atlanta because of North Carolina's recently passed anti-LGBT law.
The NBA has said it is considering its options:
NBA Statement Regarding Legislation Recently Signed Into Law In North Carolina pic.twitter.com/xwoOo9MyeR

— NBA (@NBA) March 24, 2016
Atlanta City Council President Ceasar Mitchell (pictured, above) and two others introduced a resolution Tuesday inviting the NBA to move the game to Atlanta.
"The City of Atlanta draws strength from our diverse community," Mitchell said. "This unity creates our city's embracing spirit, a quality that has made Atlanta the destination of choice for numerous international business conventions, professional and college sporting events, as well as one of the largest concentrations of Fortune 500 companies in the nation. We would certainly welcome the opportunity to show that very spirit as the host of the 2017 NBA All-Star Weekend."
North Carolina Governor Pat McCrory, who is clearly feeling enough pressure to have released a video on Tuesday claiming that his state has been "the target of a vicious, nationwide smear campaign" since he signed the anti-LGBT bill into law last week, responded with fury to Atlanta's request:
"Thankfully no college team from Georgia made the Final Four again this year. Otherwise, the Atlanta City Council would have to boycott the City of Houston where voters overwhelmingly rejected a bathroom ordinance that was nearly identical to the one rejected by State of North Carolina," said an emailed statement from McCrory communications director Josh Ellis.
The NBA appears uninterested in getting involved in this catfight right now:
"We appreciate the invitation but are hopeful that the city of Charlotte and the state of North Carolina can work through their differences far in advance of the 2017 All-Star Game," NBA spokesman Mike Bass responded in a statement.
(h/t jmg)