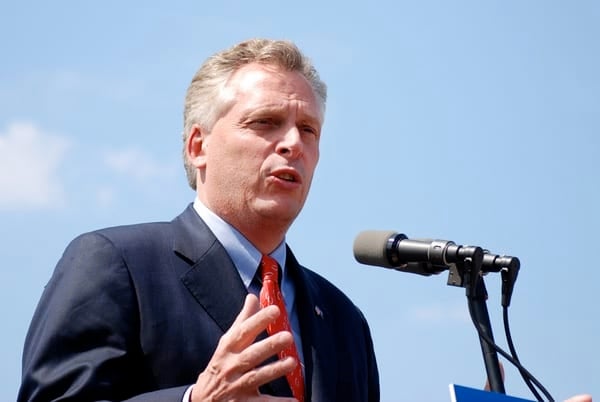 Virginia Governor Terry McAuliffe has vetoed an anti-LGBT bill that was dubbed "Indiana on steroids" by civil rights activists, referring to Indiana's heinous Religious Freedom Restoration Act passed last year.
McAuliffe previously announced that he would veto the legislation. Republican lawmakers in the Virginia legislature reportedly do not have enough votes to override McCauliffe's veto.
McAuliffe said in a statement that Senate Bill 41 is "nothing more than an attempt to stigmatize."
"This legislation is also bad for business and creates roadblocks as we try to build the new Virginia economy," he said. "Businesses and job creators do not want to locate or do business in states that appear more concerned with demonizing people than with creating a strong business climate.
"Legislation that immunizes the discriminatory actions of certain people and institutions at the expense of same-sex couples would damage Virginia's reputation for commonsense, pro-business government," added McAuliffe. We need only look at the damage these types of laws are doing in other states to understand the harm this bill could bring to our Commonwealth and its economy."
.@GovernorVA on SB41 "We can't put walls up around the state. We need to keep our vibrant economy humming" #AskThe #NewVAEconomy

— Governor Ralph Northam (@VAGovernor73) March 30, 2016
.@GovernorVA vetoes SB41 "We're not going to tolerate discrimination. VA will be open and welcoming #AskThe

— Governor Ralph Northam (@VAGovernor73) March 30, 2016
Equality Virginia celebrated the announcement by the governor.
Thank you @GovernorVA for vetoing SB 41 just now and putting a stop to potential licensed discrimination disguised as religious freedom!

— Equality Virginia (@EqualityVA) March 30, 2016
As did openly gay state representative Adam Ebbin (D).
There are still those who would drive VA backwards & feel threatened by love. TY @GovernorVA for keeping VA welcoming to all! #LoveIsLove

— Adam Ebbin (@AdamEbbin) March 30, 2016