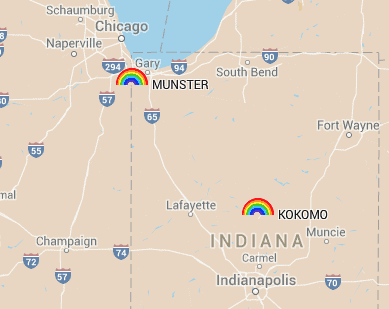 In response to the ongoing two-year debacle involving LGBT rights at the Indiana Legislature, cities across the Hoosier State continue to pass their own nondiscrimination ordinances.
The City Council in Kokomo is set for an initial vote on LGBT protections Monday night, while officials in Munster are expected to finalize the city's nondiscrimination ordinance next month.
If both ordinances go into effect, they would make Kokomo and Munster the 19th and 20th cities to add LGBT protections. Officials in Kokomo say the proposed ordinance was a direct response to the Legislature's refusal to pass a statewide nondiscrimination law this year.
"We thought the state legislature would follow through with their promise, but they failed to do so," Councilman Steve Whikehart told The Kokomo Tribune. "If the state needs to look for leadership, they can look toward Kokomo, because we're doing what they failed to do."
In Munster, the push for an LGBT nondiscrimination ordinance began last year, after the Legislature passed the anti-LGBT Religious Freedom Restoration Act, The Chicago Tribune reports.
"After RFRA (Indiana's Religious Freedom Restoration Act), it was a fantastic opportunity for Munster to differentiate itself and show that it is a welcoming community," said Paul Rotatori, who's helped lead a grassroots push for the ordinance.
Officials in Munster gave preliminary approval to the ordinance in February, and it is scheduled for a second and final reading April 18.
In Kokomo, if LGBT protections pass on first reading tonight, they would come up for a final vote March 14.
"It's wonderful to have local protections, but if you are a LGBT person in Marion County, you're fine, but if you drive south 10 miles to Johnson County, you may not have those protections," Freedom Indiana spokeswoman Jennifer Wagner told the Tribune. "Statewide protections are still the goal.