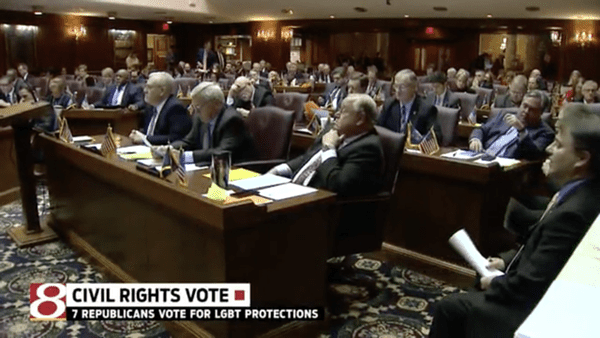 Indiana lawmakers on Thursday failed to pass even the most basic of LGBT civil rights bill that would have protected Hoosiers from work-place discrimination based on their sexual orientation or gender identity.
Indiana has struggled with LGBT rights since Governor Mike Pence signed into law the heinous Religious Freedom Restoration Act (RFRA) last year, effectively legalizing anti-LGBT discrimination statewide. Subsequent efforts to pass a comprehensive LGBT civil rights bill that would protect LGBT Hoosiers from discrimination in the areas of employment, housing and public accommodations, have failed disastrously. Lawmakers recently killed a bill that excluded protections for transgender citizens in hopes of achieving some sort of compromise.
The bill voted down on Thursday also took a narrow approach, focusing only on employment discrimination in hopes of getting something done on the matter. But lawmakers could not even agree that LGBT people have the right to not be discriminated against at work.
It was an effort to find Republican support for a measure that avoided the controversy caused by earlier proposals. Seven Republicans voted for it yet the House voted to defeat it on a vote of 35 to 59.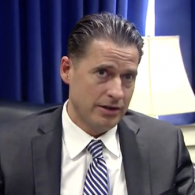 "We know where people as of today stand on the civil rights issue," said [House Minority Leader Scott] Plath [right], "and that's important for economic development. We should keep working on it."
House Speaker Brian Bosma says more Republicans would have voted for the amendment if it had been the subject of a public hearing.
"Do I think it's productive to drag this out every day and put a stamp on it again?" he asked. "No, I don't think it's productive."
Indiana Competes, a coalition of business leaders, issued a statement calling the vote a declaration that Indiana will continue to tolerate discrimination against the LGBT community.
LGBT rights advocacy group Freedom Indiana blasted state lawmakers for failing to act. In a statement posted online, the group said,
Today, the Indiana House overwhelmingly rejected an amendment affording commonsense employment protections to LGBT Hoosiers.
Let that sink in for a moment. Employment. The ability to work hard, earn a living and put food on the table for your family? Some Indiana lawmakers don't even think LGBT people should be afforded that most basic, fundamental freedom.
The group also took to Twitter to condemn the vote as an "outrage."
An outrage: IN House rejects basic employment protections for #LGBT Hoosiers. https://t.co/YsdXZNccKQ #INLegis pic.twitter.com/OEhHxVm7wE

— Freedom Indiana (@freedom_indiana) February 18, 2016
Watch a news report from WISHTV, below.