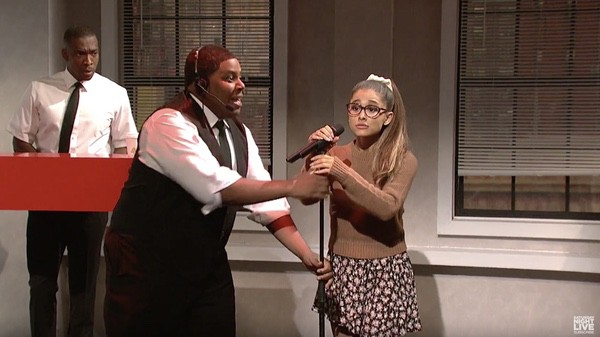 SNL host and musical guest Ariana Grande got a chance to show off her impressionist skillz in a sketch about saving the music streaming company TIDAL.
Grande ably takes on Britney Spears, Shakira, Celine Dion, and Whitney Houston, though her Rihanna impression could use a little 'work'.
It's not the first time we've seen Grande's abilities in this area, however. You may recall she showed off her mimicry pipes on The Tonight Show with Jimmy Fallon in a sketch called 'Wheel of Musical Impressions' in September.
Watch:
https://www.youtube.com/watch?v=j7uBph38kXo
She also wondered what her career scandal might be in a number during her opening monologue:
And performed her new single "Dangerous Woman"…
And another new track "Be Alright".