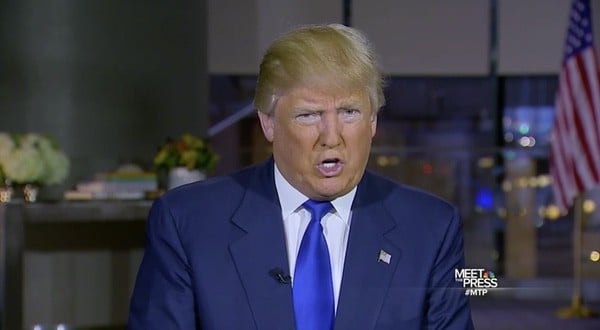 Donald Trump told NBC's Chuck Todd on Meet the Press that he's looking into paying the legal fees for John McGraw, the 78-year-old Trump supporter who sucked-punched a black protester at a rally in Fayetteville, NC on Thursday.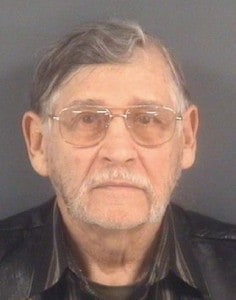 Transcript:
CHUCK TODD:  But Mr. Trump, when you say, you know, "If you see somebody getting to ready to throw a tomato, knock the crap out of them. Seriously, just knock the hell out of them. I promise you, I'll pay for their legal fees." How is that not condoning what this older gentleman did to this protester?
DONALD TRUMP:  Well, let me explain what happened. We were told just as I was going up on the stage, I was told by the secret service, "Sir, there's a person or two people in the audience that have tomatoes. They are going to throw them at you, we think. If they do throw them, you have to be prepared."
Now, if you get hit in the face with a tomato, let me tell you, with somebody with a strong arm, at least, let me tell you, it can be very damaging. Not good. So I was told people were in the audience, two people, with tomatoes, and they're going to throw them at me. What I did is I said, "By the way, if you see anybody with tomatoes, right at the beginning, you've got to stop them. Do whatever you want to do." I have no objection to what I said. I would say it again. People are there doing harm, you have to go and you have to use equal force.
TODD: Do you plan – I'm just curious–
TRUMP: It's not fair. It's a one-way street.
TODD: I'm just curious, do you plan on paying for the legal fees of this older gentleman in North Carolina who sucker punched the protester?
TRUMP: Well, I'm not aware. I will say this. I do want to see what that young man was doing. Because he was very taunting. He was very loud, very disruptive. And from what I understand, he was sticking a certain finger up in the air. And that is a terrible thing to do in front of somebody that frankly wants to see America made great again. And so we'll see.
TODD: And that condones —
TRUMP: I'm going to take a look at it. But I want to see what that man was doing.
TODD: And that condones a sucker punch though?
TRUMP: No, as I told you before, nothing condones. But I want to see. The man got carried away, he was 78 years old, he obviously loves his country, and maybe he doesn't like seeing what's happening to the country. I want to see the full tape. But I don't condone violence.
TODD: So you might pay for his legal fees?
TRUMP: Well, I'm going to look at it. I'm going to see, you know, what was behind this because it was a strange event. But from what I heard, there was a lot of taunting and a certain finger was placed in the air. Not nice. Again, I don't condone the violence. I don't condone what he did. But you know what, not nice for the other side either.
TODD: It's possible you could help him with legal fees, if this man needs it?
TRUMP: I've actually instructed my people to look into it, yes.
Watch:
https://www.youtube.com/watch?v=ZVncCmyIYvY