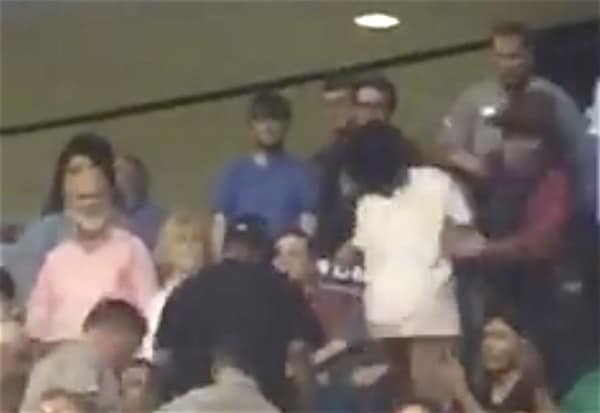 Videos have surfaced which show Rakeem Jones, a protester, being punched by Donald Trump supporter John McGraw as he was escorted out of a Trump rally with friends in Fayetteville, North Carolina on Wednesday.
Jones was then thrown to the floor by security officers and detained after getting punched. Security officers did not go after McGraw at the time but since the videos surfaced he has been arrested and charged with assault and disorderly conduct.
Watch:
Jones said he and four friends — a "diverse" group that included a white woman, a Muslim, and a gay man, had gone to the rally as a "social experiment." He said the woman with them started shouting once Trump's speech began.
"She shouted, but at the same time, they were shouting too," Jones, a 26-year-old inventory associate, said. "Everyone was shouting, too. … No one in our group attempted to get physical."
Jones blamed the Cumberland County officers escorting him from the rally for failing to protect him — then detaining him instead of the man who attacked him.
Inside Edition tracked down McGraw to get his thoughts:
INSIDE EDITION tracked down the supporter, 78-year-old John McGraw, who was unrepentant.
When asked if he liked the rally, he said: "You bet I liked it. Knocking the hell out of that big mouth."
And when asked why he punched the protester, he said: "Number one, we don't know if he's ISIS. We don't know who he is, but we know he's not acting like an American, cussing me… If he wants it laid out, I laid it out."
He added: "Yes, he deserved it. The next time we see him, we might have to kill him. We don't know who he is. He might be with a terrorist organization."
Ronnie Rouse, who shot one of the videos below, described the atmosphere at the rally:
Rouse said as soon as Trump's speech began, someone in the crowd singled out him and his friends, screaming, "You need to get the f— out of there!" Rouse said that his group had not said anything and that the comment was unprovoked. But he said they were almost immediately surrounded by eight Cumberland County sheriff officers, who escorted them out. On the way up the stairs, the attack came.
Rouse, a 32-year-old musician, said he didn't see the punch but saw the aftermath — his friend "slammed" by officers to the ground and handcuffed. Noting that someone in the crowd shouted, "Go home n—–s," he said he was taken aback.