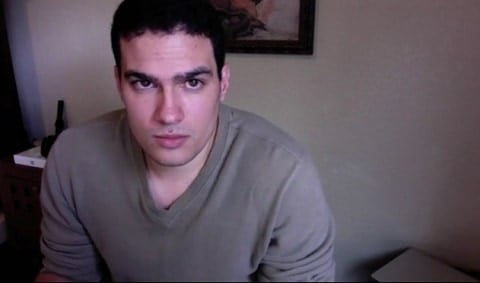 In the ongoing battle for supremacy in Christian-based anti-gay bigotry, Theodore Shoebat has said that other anti-gay activists are out to get him because of his very reasonable call for the extermination of gay people.
To be clear, Theodore Batsh*t is so extreme in his views that even Peter LaBarbera–who has compared himself to a persecuted Jew living in Nazi Germany–thinks that Theo may have lost the plot entirely.
LaBarbera went so far as to ask Batsh*t to clarify his views on the death penalty for gay people voiced in Janet Porter's documentary Light Wins: How to Overcome the Criminalization of Christianity. Put-upon Batsh*t refused to do so and has now claimed LaBarbera is carrying out "an inquisition" against him in order to appease "useless sodomites," hopefully including yours truly, and definitely including Joe My God.
In a long blog post on Tuesday, Shoebat wrote in part:
"So many today, fattened by materialism and lost in their own ego, want nothing to do with the holy words of the prophet Moses, nor any of the prophets after him, nor the words of the Apostle who declared that sodomites are worthy of death, but continuously want to teach the precepts of a vain secular moralism. I am not speaking of the atheist who denies everything holy and whose blasphemies are expected; I am speaking of supposed 'Christians' who carry the title of conservative and who tout themselves as advocates for family values, while at the same time exert themselves to please the sodomites and the acolytes of perversion as they try to censure those who honor the laws of God…
"Peter LaBarbera, an Evangelical who is in [Light Wins], was confronted by the leftist media on the fact he is in the same documentary with me, the man who believes in God's law that says that sodomites are to be put to death. Instead of defending the law of the Bible, which he claims to believe, this hireling decided to push for me to recant my statements, and said that if I didn't that I should be removed from the documentary. Janet called me urging me to make a statement to "clarify" what I really believed, that I really don't believe in the death penalty for sodomites, but simply in the anti-sodomy laws that were once enacted in Texas.
"To be honest I was quite hesitant to do this because to do so would mean recanting all of my writings in support for the death penalty. Janet sent me the first draft of the statement to receive my stamp of approval."
The draft in question included the line "I have not called for anyone to take the life of those practicing homosexual behavior."
Batsh*t continued that "Peter LaBarbera objected to the draft and expressed his dissatisfaction with it, pushing for me to recant my position that an inquisition should be established to uproot homosexuality and other perversities."
Following some lengthy quotes from the Bible, he explained that he is right to call for the death of gay people because "the purpose of the law is love, and this very law declares that sodomites are worthy of death."
With clearly too much time on his hands, Batsh*t wrote that LaBarbera "kisses the feet of the sodomite to deny me as Peter denied Christ" by appeasing "the sodomite" Joe My God. "Why would a Christian," he asked, "address an evil person with such a blasphemous title as 'Joe My God?'"
Why indeed?
Batsh*t concluded his rant by attacking "Michael Coren, a heretic who lied about being Catholic while holding a position as a news host in Canada."
Coren, he explained, "wrote numerous books about how great Catholicism is, and while praising the Catholic faith, he was attending Anglican church services. Now he has declared his renunciation of the Catholic faith, and has become an open agent for the sodomite religion."
"He is a heretic and the worst kind. There is one heretic that says: 'I am a heretic. I hate God.' But there is the other type, the more deceptive strand that says, 'I love God. I am orthodox. But let's tolerate the enemies of God, let's enable them, empower them, allow them to eclipse the light their darkness. This is the worst type of heretic and the most dangerous kind."
Watch your back Coren. And Joe My God.
Watch two clips from Light Wins below.
https://www.youtube.com/watch?v=RwDBmlVPGpc&feature=youtu.be
https://www.youtube.com/watch?v=byYD19x1eFU&feature=youtu.be