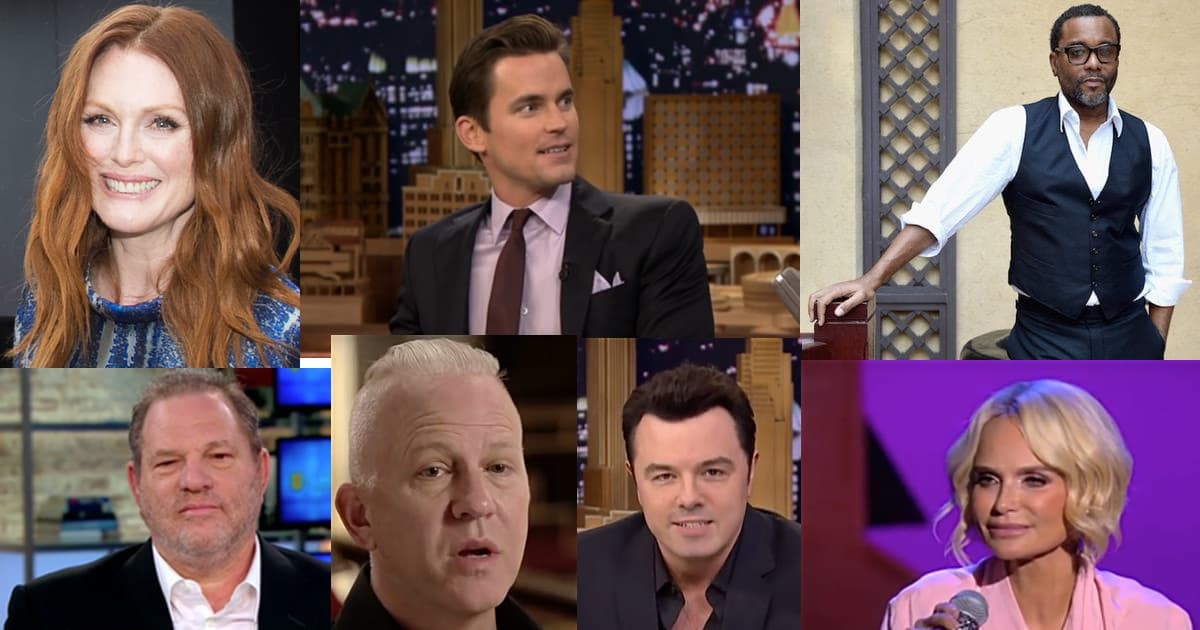 Following yesterday's announcement by Disney and Marvel that they plan to take business out of Georgia should Governor Nathan Deal sign an anti-gay "religious freedom" bill pending there, a large group of entertainment writers, actors, and moguls have signed a letter saying they will do the same.
Among the letter's 35 signatories are Ryan Murphy, Lee Daniels, Matt Bomer, Julianne Moore, Seth MacFarlane, Harvey Weinstein, Laurence Mark, and Frank Marshall.
The entertainment industry figures join Apple, the Atlanta Braves, the Atlanta Falcons, the Atlanta Hawks, Dell, the Dow Chemical Company, the Georgia Chamber of Commerce, Hilton, Intel, Intercontinental Hotels, Live Nation Entertainment, Marriott, MailChimp, the Metro Atlanta Chamber, Microsoft, the NFL, Paypal, Salesforce, Square, Turner, Twitter, Unilever, Virgin, and Yelp in speaking out against the legislation, according to the Human Rights Campaign.
The letter:
"Dear Governor Deal,
As leaders in the entertainment industry, we have deep concerns about H.B. 757, which would sanction discrimination against LGBT people and others in Georgia.
As you know, Atlanta is often referred to as the Hollywood of the South. During the last fiscal year, at least 248 films and television productions were shot in Georgia, adding at least $1.7 billion in direct spending to the state's economy. Additionally, the entertainment industry helped to bring more than 100 businesses to Georgia through relocation or expansion in the past fiscal year. Only two states — California and New York — have a larger entertainment industry footprint and both have statewide non-discrimination protections on the books. Unfortunately, Georgia not only lacks such protections, but could soon move from a bad situation to worse with H.B. 757.
We pride ourselves on running inclusive companies, and while we have enjoyed a positive partnership on productions in Georgia, we will plan to take our business elsewhere if any legislation sanctioning discrimination is signed into state law.
We urge you to veto H.B. 757 and send a strong message that Georgia will not tolerate discrimination against citizens, employees and visitors to the state.
Thank you in advance for your consideration of this urgent issue."
Ali Adler, Writer and Producer
Greg Berlanti, Writer and Producer
Matt Bomer, Actor & Simon Halls, Publicist
Dustin Lance Black, Screenwriter and Filmmaker
Bradley Bredeweg, Executive Producer and Showrunner
Kristin Chenoweth, Actress and Singer
Diablo Cody, Writer, Producer and Director
Bruce Cohen, Producer
Lee Daniels, Producer and Director
Dana Fox, Writer and Producer
John Goldwyn, Producer
James Gunn, Writer and Director
Anne Hathaway, Actress
Alan Hergott, Entertainment Attorney
Nina Jacobson, Producer
Dan Jinks, Producer
Kathy Kennedy, Producer
Zoe Kravitz, Actress
Bryan Lourd, Talent Agent
Seth MacFarlane, Producer and Filmmaker
Laurence Mark, Producer
Frank Marshall, Producer and Director
Neil Meron, Producer
Julianne Moore, Actress
Ryan Murphy, Producer
Peter Paige, Executive Producer and Showrunner
Rob Reiner, Actor, Director and Producer
Sarah Schechter, Producer
Adam Shankman, Director and Producer
Aaron Sorkin, Screenwriter and Producer
Marisa Tomei, Actress
Gus Van Sant, Producer and Director
Harvey Weinstein, Producer and Film Studio Executive
Craig Zadan, Producer and Director