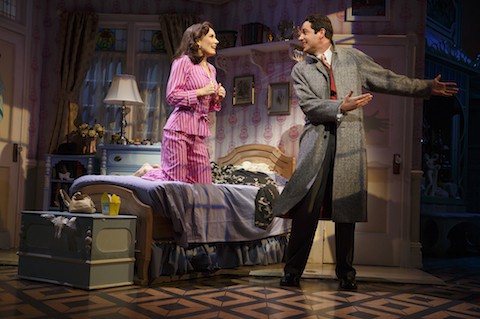 If it's escape you're after — into, say, an airy, pastel-colored world of sweetness and romance (who can blame you?) — you'll find much to adore about Roundabout Theatre Company's lavish, perfectly cast revival of She Loves Me, which opened on Broadway March 17 at Studio 54. Under the sure-handed direction of Scott Ellis (who ushered in a similarly joyful revival of You Can't Take It With You last season), the production feels character-driven rather than hammy or old-fashioned, delivering both laughs and love story with a light touch.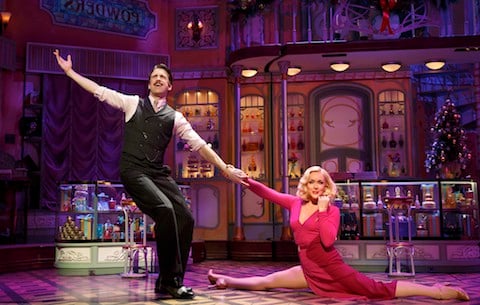 The 1963 rom-com, featuring a book by Joe Masteroff, music by Jerry Bock, and lyrics by Sheldon Harnick, shares its source material (the 1937 play Parfumerie) with Jimmy Stewart's The Shop Around the Corner and You've Got Mail, in case the plot rings familiar. Here (and by here, I mean Budapest, where it seems everyone speaks English and is very much all-American), a group of coed coworkers spend their days fanning the flames of female vanity at an upscale fragrance and beauty shop called Maraczek's (owned by one Mr. Maraczek, the ever charming Byron Jennings).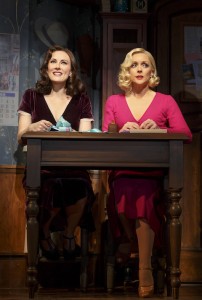 Among them are the shop lothario (Gavin Creel), his sometime target and a daffy romantic (a priceless Jane Krakowski, who else?), and a cynical-adjacent, mostly affable bachelor (Zachary Levi). When a new employee arrives (the singular Laura Benanti) and rubs Levi's character the wrong way, it's clear they're meant for each other. Especially once we learn they've each been exchanging letters with an anonymous boo through a lonely-hearts club in the local paper. They have, of course, been writing to each other, and the fun is in watching them figure it out.
The drawn-out, simple story is as good an excuse as any to spend time with the supremely talented cast assembled here. Creel serves as a worthy comedic foil for Ms. Krakowski, who needs only a single throwaway line to prove why she's among the great comediennes of her generation. Benanti, known for her wit both on stage and off, makes a play for that title as well, with an expert mix of unselfconsciousness and dead-on timing that makes for a sharp yet vulnerable heroine. Levi, known best for his role on TV's Chuck, appropriately chucks sitcom style and takes a more grounded approach that pays off.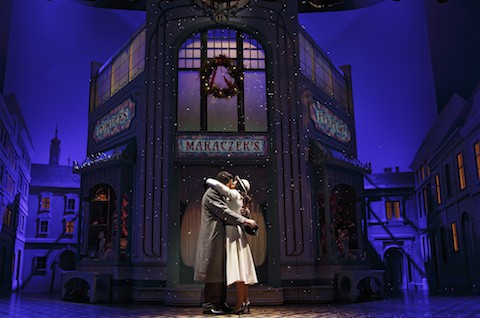 You'd be forgiven for feeling, when the curtain goes up on She Loves Me, as though you've committed to spending Easter Sunday in Connecticut. Whether that prospect fills you with dread or anticipation, you're likely to succumb to the show's many delights, including designer David Rockwell's Fabergé egg of a set, as versatile as Russian nesting dolls. If the population feels a bit whitewashed (even for 1934 via '63) and the women too lovesick by half for your modern tastes, you'll at least have reason to be glad when the sugar high leads you back to the real world.
Recent theatre features…
'Boy' Finds Gender Identity More Nature Than Nurture Off-Broadway: REVIEW
Lupita Nyong'o Is a Marvel in 'Eclipsed' on Broadway: REVIEW
Michelle Williams and Jeff Daniels Face Off in 'Blackbird' on Broadway: REVIEW
'Disaster!' Is Not Quite a Disaster on Broadway: REVIEW
Broadway's 'The Humans' Is So Real, It's Almost Uncomfortable: REVIEW
Follow Naveen Kumar on Twitter: @Mr_NaveenKumar (photos: joan marcus)