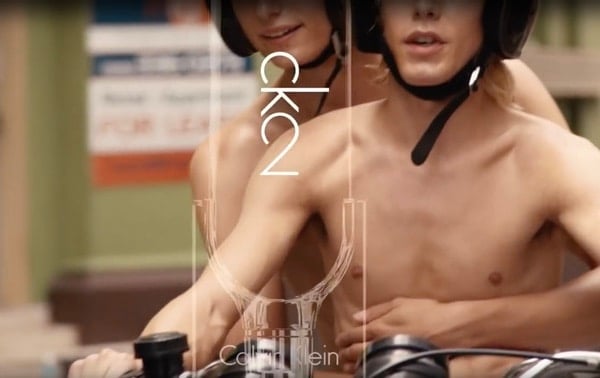 A new Calvin Klein ck2 ad shot in Puerto Rico by Ryan McGinley and featuring Victoria Brito, Dakota Garrett, Luka Sabbat, Erin Eliopulos, Kyle Mobus, Sung Jin Park, and twin sisters Baylee Soles and Kelsey Soles, is reportedly being reviewed by authorities in the Arkhangelsk region of Russia for violating "gay propaganda" laws.
"The advertisement – which features two same-sex couples – has been reported to authorities in the country for allegedly containing "elements of propaganda of homosexuality and paedophilia"…The ad features a same-sex male couple riding on a motorcycle shirtless, while a lesbian couple bare their breasts on a highway. However, while both straight couples in the advert kiss in the video, the same-sex couples do not."
Fines for violating the 'gay propaganda' laws run in the range of 1 million rubles ($15,000, €13,000) and a suspension of sales.
Watch the ad: